Santa Fe Rx Dehumidifier Review


The Santa Fe Rx Dehumidifier is a powerful basement model with a water extraction rate of 74 pints per day. The RX has received very high ratings in consumer reviews and I am happy to recommend this model for its technical capability, excellent build quality, relative quietness and energy efficiency.


This model has been designed specifically for use in a finished basement. It is more pleasing to the eye than many other models and a combination of sound deadening insulation inside the cabinet and careful design of the airflow reduces the noise output from this appliance to a bearable 54dB. It also includes an internal condensate pump.

Off-setting these advantages is a high price tag of around $2000. In my view most users would be better advised to pick either the Santa Fe Compact or Impact in preference to the RX. The Compact is less than two thirds of the price and yet offers 70 pints per day capacity while the Impact, although its price is nearly $1900, can remove 105 pints per day and is far more energy efficient.



Both the Compact and the Impact are quite small in size and both are ductable. These two characteristics make it relatively easy to install either unit out of sight in a small enclosure. Enclosing the units will also reduce the apparent noise level, cancelling out two advantages of the Santa Fe RX Dehumidifier; pleasing appearance and lower noise output. A separate condensate pump can be obtained if you need one.


Please note that the Santa Fe RX Dehumidifier is not a low temperature unit and is not configured for ducting.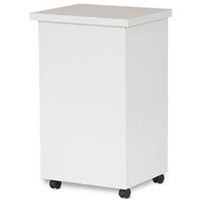 Features
Environmentally friendly - energy efficiency reduces carbon footprint while its R-410A refrigerant does not damage the Ozone Layer


Energy efficient – extracts 2.47 litres for every kilowatt hour of energy it uses


Easy to install - first, run the drain hose to a suitable outlet; second, plug into a power socket and its ready to run


Low maintenance - check and clean the air filter regularly and replace at the specified intervals


Casters - for easy movement on level surfaces


Configured for continuous drainage


Internal condensate pump - 15ft vertical lift capacity to carry water to a convenient outlet


Auto-defrost system


Auto-restart – switches back on automatically following a power outage


Intuitive and reliable manual controls


Adjustable humidistat - settings from 20-80% RH


MERV-11 air filter – removes unwanted mold spores and other particles from the air


Optional filter upgrades - MERV-14, HEPA and odor absorbing carbon filters are available


Optional filter housing - required for HEPA and MERV-14 filter options


Independent blower operation - can be switched on for continuous air circulation and air filtration even when the RX is not dehumidifying


Smooth white cabinet - can be easily decorated or covered to suit your room style


Quieter operation - sound deadening inside the cabinet reduces noise output to 54 dB

Specifications
Model Number - 4030440


Weight - 130lbs


Height - 37.5"


Width - 23.0"


Depth - 20.0"


Water Extraction Rate - 74 pints per day at 80°F/60%RH (AHAM) (148 pints per day at saturation)


Max. room size - 1800 square feet (190 m2)


Operating Temperature Range - 60°F (13°C) to 95°F (35°C) (70°F recommended)


Air-Flow Volume - 230 CFM (390 m3 per hour)


Fan speeds - 1


Noise Output - 54 dB


Power Requirement - 5.4 Amps/115 Volts/630 Watts


Energy Star Qualified - Yes


Energy Factor - 2.47 L/kWh


Refrigerant - R-410A


Warranty - 5 yrs comprising 1yr parts and labor + 4yrs on sealed refrigeration system

Manufacturer's Information
Click on the link to download the Santa Fe RX Dehumidifier Manual

Applications
The Santa Fe RX Dehumidifier is designed for use in a basement or other large area within your home. It is not, in the usually accepted use of the term, a "basement dehumidifier" because it is not designed to operate in the cooler temperatures typically found in unheated basements in colder areas of the country.



Consumer Reactions

Although the number of consumer reviews of the RX is not large those that have been published show conclusively that users are very pleased with the performance and reliability of this appliance.

Users compare the Santa Fe RX Dehumidifier very favorably with the portables they have used previously and find it to be more effective, more energy efficient and to have a much longer working life. In one review a user describes how he operated one without trouble for eight years, left the unit, in perfect working order, when he moved house and bought a second RX for his new home.

The RX is noticeably more energy efficient than a portable of comparable water removing capacity and users find this clearly reflected in their energy bills. Although quieter than other commercial quality models the RX is no quieter than, for example, a 70 pint Frigidaire model and some users find the noise level intrusive.

My Recommendation

As I made clear at the beginning of this review I have no difficulty in recommending the RX for its technical capabilities and build quality. My difficulty with this model concerns value for money.

In essence the RX is a large, heavy alternative to a standard portable for use in a warm basement. Its weight, size and price are the consequences of the build quality and longevity that are its greatest strengths.

The RX is the answer to a couple of frequently asked questions:
Why can't they build models that last more than a year or two?
Where can I get a dehumidifier made in the USA?
The answer is that a model that lasts costs a lot more to build than a typical portable and that portables built in China, where almost all of them come from, cost far less than even a unit of comparable quality would cost to build in the USA.

Having said that the RX is expensive, even in comparison with some other Santa Fe models, and my advice to our visitors would be to consider their Compact or Impact models before the Santa Fe RX Dehumidifier for the reasons I explained at the start of this page.
---
You are here....Home > Santa Fe > Santa Fe RX