Soleus Dehumidifier
Reviews and Ratings
Company Background

The Soleus Dehumidifier is a well known and popular brand from a young and innovative company. The Company was founded in 1998 as MJC America and trades under the name "Soleus Air". Originally founded to produce air compressors for use in air conditioners and cooling systems it has since diversified into commercial and retail air conditioners, heaters, fans and humidity control appliances.

The company has been spectacularly successful, increasing its sales 400% between 2002 and 2006. In 2007 it was named the 189th fastest growing company by Entrepreneur Magazine's "Hot 500 Fastest Growing Businesses in America".
---
The Soleus range includes the following models:
---
DP17003 (70 Pint)
The DP17003 is a high capacity unit with a water extraction rate of 70 pints per day.
Large capacity portable home models are typically bought for use in a basement and this Soleus Dehumidifier is suitable for a basement of up to 800 square feet.
The DP17003 is well equipped and its features include three fan speeds, electronic controls, a shut off timer and auto-restart.
Reviews by users are generally positive and the majority of buyers are well pleased with the DP17003.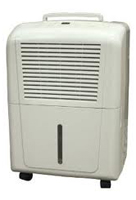 ---
---
CFM40E (40 Pint)
The CFM40E is a lower capacity unit that will keep humidity under control in areas of around 600 square feet.
This unit is stylish and modern in appearance and its most attractive feature is its very low operating noise level of just 41dB.
To set against this advantage the fan on this model runs continuously so although the noise level is low it is a permanent part of the background in any area in which the CFM40E is used.
Like all Soleus models the CFM40E is well featured and easy to use as reading the many positive reviews of this unit will confirm.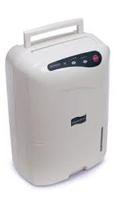 ---
DP1-30-03 (30 Pint)
The DP1-30-03 is very much a unit for smaller areas and will perform most effectively in areas of 200 to 400 square feet.
Unlike the CFM40E this is by no means a quiet appliance and generates as much as 59dB on the highest of its three fan speed settings.
For this reason the DP1-30-03 would not be the best choice for use in an area where noise may be particularly unwelcome, such as the bedroom in which you sleep.
Having said that user reviews are generally positive and the good qualities of this unit may outweigh this disadvantage in many homes.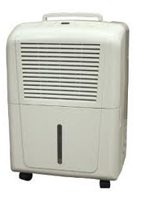 Read my review of the DP1-30-03
---
CFM25E (25 Pint)
The CFM25E is a lower capacity, more economical version of the CFM40E.
This unit shares all the advantages of the CFM40E but uses less energy and would be a good choice for use in smaller areas of your home or in a recreational vehicle.
Small dehumidifiers are often bought for use in storage areas, such as a garage. While the capacity is adequate for a typical garage this unit would not be an ideal choice if you live in one of the cooler areas and your garage air temperature is typically below 65°F/18°C.
Reviews of this Soleus dehumidifier are as positive as those for the more powerful CFM40E.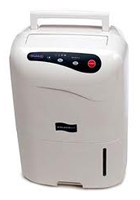 ---
---
Search our Site
---
Frequently Asked Questions
If you have a question why not try our



FAQs Page
---
Ask a Question
If you can't find the answer you need we will reply to your question here. Just type your question into the form on our
Ask a Question Page
---
Make a Comment
If you would like to comment on our site, to tell us we've done a good job or to suggest improvements, please click on
Visitor Comments
---