Santa Fe Impact Dehumidifier Review
The new Santa Fe Impact Dehumidifier (Santa Fe Impact XT) is exceptionally energy efficient and one of the best models for your crawl space or basement.
Description
The Santa Fe Impact is a crawl space unit recently added to the Santa Fe range.

The Impact has a water extraction rate of 105 pints per day and is suitable for areas not exceeding 2500 square feet.

It is currently (Feb 2012) retailing for around $1865 which is a competitive price for a model of this quality in its class.

The most remarkable feature of the Santa Fe Impact Dehumidifier is its low energy consumption. With an amp draw of just 4.9 this unit consumes a very low 530 watts per hour.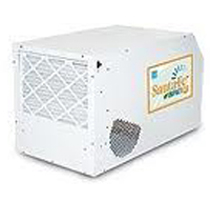 Features
Exceptional energy efficiency - better than any other high capacity model for home use you can buy


"Dual air distribution" - discharges dried air from vents on both sides of the Santa Fe Impact Dehumidifier for better air circulation and a more even humidity level throughout your basement or crawl space


Low temperature operation - effective drying at temperatures as low as 56°F


Simple to use manual controls


Two fan operating modes - "fan on", blows continuously, "fan auto", blows only while the compressor is operating


Adjustable humidistat - settings from 20% to 80% RH, recommended level 45-50%


Auto-defrost system


Continuous drainage to nearby drain - 8' drain hose supplied


Optional separate condensate pump available at an additional charge


MERV-11 pleated fabric air filter - non washable but can be vacuumed several times before replacement


Auto-restart - following any interruption to your power supply


Simple installation - just set up the drainage hose and plug into the power socket


Ductable - to enable use in more than one partitioned room or more effective drying in a single large area


Optional ducting kit - available at an additional charge


Low maintenance - simply check and clean the air filter every six months
Specifications
Model Number - 4032230


Water Extraction Rate - 105 pints per day at 80°F/60%RH (AHAM) (210 ppd at saturation)


Height - 21.75"


Width - 20.25"


Depth - 38"


Weight - 140lbs.


Operating Temperature Range - 56°F (13°C) to 95°F (35°C)


Air-Flow Volume - 257 cfm (437 m3/hr)


Fan speeds - 1


Max. room size - 2500 square feet (232 m2)


Noise Output - not available


Power Requirement - 4.9 Amps/115 Volts/530 Watts


Energy Star Qualified - Yes


Energy Factor - 4.2 L/kWh


Refrigerant - R-410A


Warranty - 1yr. parts and labor; 5yrs. on sealed refrigeration system
Manufacturer's Information
Impact XT Spec. Sheet (PDF)

Impact XT Manual (PDF)
Applications
The Santa Fe Impact XT is designed for installation in areas where space, particularly head room, is limited. It is therefore ideal for use in a large crawl space. With a 105 pints per day water extraction rate it fills a "gap" in the Santa Fe range between the 90 pint Santa Fe Advance and the 150 pint Santa Fe Max Dry.

Like all Santa Fe crawl space models the Santa Fe Impact Dehumidifier is equally suitable for use in a basement. Although its capacity is little different from that of the Santa Fe Classic the lower, longer casing design may make it more suitable for installation in a convenient spot where the Classic, with its "upright" design may not fit.

The outstanding energy efficiency of the Impact will be enough attract many buyers away from other models. Please be aware, however, that the Impact operates effectively down to 56°F, a cool but not cold temperature. For lower temperatures other models are more suitable, even if they will cost more to run
My Recommendations
The Santa Fe Impact Dehumidifier is very new. It is so new that, as I write this review (Feb 12 2012), there are still three days to go before this unit arrives in the warehouses of retailers. Obviously there is no consumer experience to draw on so what can I say about the Santa Fe Impact?

First, this is a Santa Fe model from Therma-Stor. Therma-Stor dehumidifiers are made in the USA. The company has a wealth of experience and all of its products so far have proven effective and reliable.

Second, the Santa Fe Impact achieves a ground breaking level of energy efficiency. The minimum standard required by Energy Star for qualification of models rated at 75 to 185 pints per day is an Energy Factor of 2.5. The Impact achieves an EF of 4.2!

For anyone with a moderately cool basement or crawl space of up to 2500 square feet the Impact must be well nigh irresistible.

Following my unusual outbreak of enthusiasm :) I must add two cautionary notes. The Impact is untried and untested. It could prove to be the one that Therma-Stor got wrong. I think this is unlikely but I will refrain from an all out recommendation until the jury is in.

My second caution is to repeat my remark from the "Applications" section. This is not the right appliance for those of you who need it to operate in a basement or crawl space at really cold temperatures. However energy efficient a dehumidifier may be it must also be effective in the conditions found in your basement to be a good buy.

If Santa Fe have produced another dehumidifier as good as their previous models, and subject to the note about low temperature operation, the Santa Fe Impact Dehumidifier will be a winner and I shall be happy that mine was the first independent review site to have brought it to your attention.
---
You are here....Home > Santa Fe > Santa Fe Impact

---