Santa Fe Compact
Dehumidifier Review


The Santa Fe Compact Dehumidifier is purpose designed for a medium sized crawl space of up to 1,800 sq ft.


Consumer reviews of the Compact are consistently positive and I can confidently recommend this product. The Compact is equally suitable for use in a basement and ideal for anyone for whom the larger Santa Fe Classic is a more powerful appliance than is needed.


The Compact is exceptionally energy efficient and, with an energy factor of 2.37 litres per kilowatt hour, far more economical to run than any residential quality portable with a similar water extraction capacity.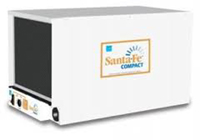 The Compact is not cheap to buy, retailing at between $1,000 and $1,200. For this price you get a carefully engineered, high quality, Energy Star® certified appliance that is remarkably compact and will fit in even the most cramped of crawl spaces.


For any crawl space the Compact represents value for money. For smaller basements there may be cheaper alternatives but for a cool basement the Santa Fe Compact is among the best dehumidifiers you can buy.



Features


Easy to install - the Compact is compact and light enough for one person to install; connect the drain hose, plug into a power socket and you're in business


Optional hang kit - allows the Compact to be suspended between floor joists where space is tight


Very compact and light in weight for its power


Low maintenance - just inspect and clean the air filter regularly and replace every six to twelve months


Effective auto-defrost system


Low temperature operation – works effectively at temperatures down to 49°F


Straightforward and robust manual controls


Adjustable humidistat - can be set as low as 35% RH


Optional remote humidistat available


Suitable for continuous drainage to floor drain or sump


Optional condensate pump available if required


MERV-8 air filter – will last between 6 and 12 months before needing replacement


Auto-restart – if the power supply fails will switch the unit back on at your selected settings


Configured for ducting to improve air flow in your crawl space or to allow installation outside the drying area


Optional ducting kit available


Energy efficient – removes 2.37 litres of water from the air per kilowatt hour of energy consumed


Specifications


Model Number - 4033600


Water Extraction Rate - 70 pints per day at 80°F/60%RH (AHAM) (140 pints per day at saturation)


Height - 12"


Width - 12"


Depth - 21"


Weight - 55lbs


Operating Temperature Range - 49°F (13°C) to 95°F (35°C)


Air-Flow Volume - 150 CFM (255 m3 per hour)


Fan speeds - 1


Max. room size - 1800 square feet (190 m2)


Noise Output - 63 dB


Power Requirement - 5.1 Amps/115 Volts/580 Watts


Energy Star Qualified - Yes


Energy Factor - 2.37 L/kWh


Refrigerant - R-410A


5 Year Limited Warranty - 1yr parts and labor + 4yrs on sealed refrigeration system


Manufacturer's Information

Compact Manual (PDF)


---

Applications


The Santa Fe Compact is optimized for use in the confined area of a typical crawl space. It is robust enough to withstand the potentially hostile conditions and can operate effectively in the cooler temperatures which prevail in some areas.

The Compact is equally effective in a basement and will appeal particularly to those of you who want to install your dehumidifier out of sight or in a cramped corner.


Consumer Reactions


Consumers rate this unit extremely highly in many reviews. They find it to be effective at reducing and controlling humidity.

Users find the Compact more effective than portable models, especially in cooler crawl spaces and basements. The Compact is also reported to have a considerably longer working life time and to reduce energy bills where a portable has been used previously.


The Compact is found to be easy to set up and light enough to be moved into position by a single person. The controls are praised for their simplicity and ease of use. Continuous drainage is said to be easy to set up and to work effectively. A number of users who have chosen to buy the optional condensate pump have complained that the instructions for use are not entirely clear.

All are impressed with the build quality, sturdy cabinet and robust components of the Compact. An isolated report was made of a Compact being faulty on delivery. Reports on noise level are mixed with some praising the unit for quiet operation while others find the noise level intrusive


My Recommendation


The Santa Fe Compact is an outstanding crawl space dehumidifier which has been enthusiastically reviewed by many users. It is effective and yet costs less to run than a typical portable unit of similar capacity. It operates at its best when a portable is struggling due to ice formation and it controls humidity to the level we need, comfortable for us and deadly to mold and dust mites.


The Santa Fe Compact Dehumidifier is the right tool for the job and I recommend it, without reservation, to our visitors.
---
---
You are here.... Home > Santa Fe > Santa Fe Compact