SaniDry Dehumidifier

SaniDry Dehumidifiers are designed to control humidity in basements and crawl spaces, the most challenging areas within any house. Basements are always cooler than the other parts of your house, because warm air rises.

Basements are always the most humid parts of the house, even if the amount of moisture in the air is exactly the same in your basement as in your bedroom. Cooler air holds less water than warmer air and so, even with the same amount of water, cooler air is closer to saturation.

Mold and dust mites thrive in areas where relative humidity is above 60% and can survive so long as it remains above 50%. These unwelcome guests are unpleasant for many reasons but the particles they produce, mold spores and dust mite fecal matter, will trigger allergic reactions in the many folks who are sensitive to them.

Many of these allergenic particles will find their way into the upper floors of the house because of the so called "stack effect". As warm air rises it is replaced by heavier, cooler air. As the cooler air warms it is replaced in turn by more cool air. It's a continuous process of convection contained within the house.

Because the mold spores and other particles are so small they are carried upwards by the warm air and spread their misery throughout the entire house. This is one of the major reasons why controlling humidity in basements and crawl spaces is so important.


The SaniDry Dehumidifier range is manufactured as private label products by Therma-Stor LLC who are well known for their Santa Fe basement and crawl space and Ultra-Aire whole house models and a range of commercial and restoration units.

The SaniDry Basement and Crawl Space models are, in all important respects, identical to the equivalent products sold under the Santa Fe brand name. As appliances we recommend them without hesitation. They are effective, energy efficient and reliable units well suited for their designed purpose.

Company Background

The SaniDry dehumidifier is distributed exclusively by Basement Systems Inc. whose world headquarters is in Seymour, Connecticut. The company operates through a network of over 300 licensed contractors throughout the USA, Canada, the United Kingdom and Ireland. Through its contractors the company undertakes a range of work improving and protecting basements, which includes the installation of its SaniDry brand of basement and crawl space models.

The SaniDry brand is installed by Basement Systems licensed contractors who also undertake all after sales service and warranty work. The prices for these appliances can only be obtained by prospective purchasers on application to a contractor. As the quoted price includes installation it is difficult to compare the cost of purchasing a SaniDry unit with that of another brand sold "off the shelf".

Making a choice between a SaniDry Dehumidifier and a Santa Fe model will depend upon your individual circumstances, and the quotation you are given by a Basement Systems franchisee. If you simply want to place the unit in your basement or crawl space, plug it in and switch it on you will have no installation to worry about except leading the drainage hose to a suitable outlet. If it is part of a larger scale project in your basement you may wish to contract with Basement Systems if their quotation is acceptable.


We cannot advise on this. We do not review installers and can only recommend that you obtain at least two quotations for any project. You do not need to contract with a Basement Systems installer to obtain one of these units, however. Apart from the label they are identical to Santa Fe models.
---
The SaniDry range of dehumidifiers includes the following models:
---

The SaniDry XP Basement Dehumidifier

Designed for use in basements, and crawl spaces with at least 40" of floor to ceiling clearance, the XP is an upright, high capacity unit with a maximum water extraction rate of 109 pints per day. The XP is optimized for low temperature operation and is suitable for use in larger basements.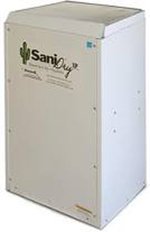 Read our full review of the SaniDry XP
---

The SaniDry CSB Crawlspace Dehumidifier

The SaniDry CSB is specifically designed for crawlspaces with a height of only 19". With low temperature operating capability and robust construction this SaniDry dehumidifier is well suited to the specialised task of keeping a larger crawlspace free from moisture.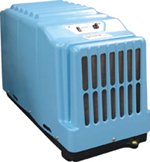 Read our full review of the SaniDry CSB
---