Haier Dehumidifier
Reviews and Ratings

Haier Dehumidifier
Company Background

The manufacturers of the Haier home appliances, the Haier Group, adopted this title in 1992.

Its origins go back to the 1920's when it was founded, in Qingdao, China, as a refrigerator manufacturer. In 1949 it was taken over by the new Communist government of China as a state enterprise and by the early 1980's it was failing badly.

With the liberalization of the Chinese economy it was placed on a commercial footing with a new chief executive under whose leadership it has flourished.

A fruitful partnership with the German Liebherr Group has led to its becoming the fourth largest producer of white goods in the world. The current name of the company is derived from the Chinese pronunciation of the second syllable of Liebherr.


---
The Haier range includes the following models:
---

The Haier 45 Pint DE45EJ
The Haier DE45EJ is a medium capacity portable model.
It will extract up to 45 pints of water per day and is suitable for medium sized areas, including basements, with a total floor area of up to 700 square feet.
The unit has all the usual features expected in these appliances and is exceptional only because it has a large 25 pint water bucket, much bigger than the buckets found in most other models in this class.
Reviews of the DE45EJ are mixed with the most serious complaints being about a short working life time.
---

The Haier DE65EJ-L
The DE65EJ-L is designed for larger spaces and can pull up to 65 pints of water from the air every 24 hours.
In floor area terms this means that the unit will work effectively in a basement or other area of up to 1100 square feet.
The DE65EJ-L is a tad lighter than some of its rivals but in other respects is similar to other portable units.
In common with the 45 pint model the DE65EJ-L does not receive too many glowing reviews from consumers due to its tendency to break down after a relatively short time.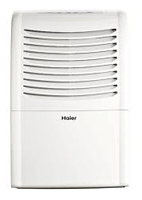 ---
---
Search our Site
---
Frequently Asked Questions
If you have a question why not try our



FAQs Page
---
Ask a Question
If you can't find the answer you need we will reply to your question here. Just type your question into the form on our
Ask a Question Page
---
Make a Comment
If you would like to comment on our site, to tell us we've done a good job or to suggest improvements, please click on
Visitor Comments
---