Santa Fe Force
Dehumidifier Review


The Santa Fe Force dehumidifier is the latest addition to Therma-Stor's
popular range of crawl space and basement models. Its 120 pints per day
capacity places it between the outstanding Impact and powerful Max Dry Dual XT units.


At around $400 less than the Max Dry the Force offers a less expensive
choice for owners of large crawl spaces or basements of less than 3000
square feet. This model is so new that there are almost no consumer reviews to help you decide whether this is the right unit for your home.


Therma-Stor's track record is good enough for me to be confident that the
Santa Fe Force dehumidifier will be effective and that purchasers will be pleased with their choice. I do however have some reservations about this new model and believe that other units in the Therma-Stor range may offer greater benefits.


The Santa Fe Force dehumidifier is good but other models may be even better for most users. I shall return to this subject and explain my reasoning in my recommendations at the end of this review. Meanwhile let's have a look at the features and specifications of this new arrival.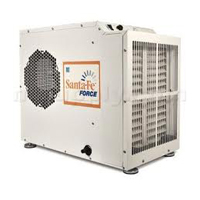 Features
Low in height - to fit into a cramped crawl space or neatly into a convenient spot in your basement


Simple to install - although a little heavy to move, once in place you have only to attach the drain hose and plug into the power supply


Minimal maintenance - just the air filter to clean every couple of weeks and replace once a year


Low temperature capability – unlike a portable this model will work effectively when the air is as cool as 56°F


Effective auto-defrost feature


Auto-restart – if you're away from home and there's a power outage the Santa Fe Force dehumidifier restarts itself at the selected settings as soon as power is restored


Simple and robust controls - one switch and one dial; it couldn't be easier


Adjustable humidistat - select any level from 20-80% relative humidity


Continuous drainage


Optional condensate pump - necessary if you don't have a floor drain or sump but economical because it only runs when needed


MERV-8 air filter – to prevent damage to the dehumidifier and to remove many unwanted air borne particles for improved air quality


Dual air distribution - vents on both side of the appliance improve the air distribution throughout your crawl space or basement


Flexible fan operation - can be set to run all the time or only when the unit is removing moisture from the air


Configured for ducting - the Force will operate effectively in stand alone mode but ducting improves performance across a large crawl space


Optional ducting kit available


High energy efficiency – extracts 2.7 litres of moisture for every kilowatt hour of energy it consumes


Eco-friendly refrigerant - will not damage the Ozone Layer


Specifications
Model Number - 4031960


Daily Moisture Extraction - 120 pints at 80°F/60%RH (AHAM) (240 pints at saturation)


Operating Temperature Range - 56°F (13°C) to 95°F (35°C)


Max. Air-Flow Volume - 365 CFM (620 m3 per hour)


Fan speeds - 1


Max. room size - 2900 square feet (306 m2)


Power Requirement - 7.8 Amps/115 Volts/875 Watts


Energy Star Qualified - Yes


Energy Factor - 2.7 L/kWh


Refrigerant - R-410A


Height - 21.00"


Width - 14.50"


Depth - 26"


Weight - 90lbs


Drain Hose Length - 8ft


Levelling Feet - to keep the unit level on uneven crawl space floor


Warranty - 5 Year Limited. 1yr parts and labor + 4yrs on sealed
refrigeration system


Manufacturer's Information
User's Manual

Specification Sheet
(PDF)


Applications
The Santa Fe Force dehumidifier is purpose designed for use in the restricted area of your crawl space and with a height of only 21 inches will fit easily, even with the levelling feet in place and with a raised base beneath it.


This model is capable of operating in ambient temperatures as low as 56°F so is suitable for cooler areas. It is also configured for ducted operation which is particularly important in a large crawl space in which air movement may be limited.


The capabilities of the Force make it equally suitable for a large basement. At present there is no information about the noise generated by this appliance but, given its power, it will not be particularly quiet.


Ducted operation would make this unit even more effective in a basement and this also provides an opportunity to enclose the unit which will reduce any noise nuisance you may experience.


Consumer Reactions
As I mentioned earlier there are no reviews available at present. This
section will be expanded as soon as there are enough reviews to make it
useful.


My Recommendation

I have no reason to believe that the Santa Fe Force dehumidifier will not
prove popular with those who buy it. I have no hesitation in recommending
it for its technical capabilities.


The reservations I touched on at the start arise from my belief that there
are more economical models in the Therma-Stor range which may be more suitable for many operators.


The first of two alternatives is the Santa Fe Impact. The Impact has a moisture extraction rate of 105 pints daily and is suitable for areas of up to 2500 square feet. It is around $225 more expensive to buy than the Force but is over 50% more energy efficient. If the area you need to keep dry does not exceed 2500 square feet it is, in my opinion, no contest. The Impact will save you more money than the extra $225 spent to buy it.

The second is the Max Dry Dual XT. The issue here in not quite so clear cut. The Max Dry costs around $400 more to buy than the Force and is just over 30% more energy efficient. It is rated for areas of up to 3600 square feet.


You will have to rely on your own judgement here and on the advice of your supplier but, in general terms, the closer the area of your basement or crawl space approaches the maximum 2900 square feet capability of the Santa Fe Force dehumidifier the more likely it is that the Max Dry will save you money in the long term. It's your call.


If your ultimate decision is to buy the Santa Fe Force dehumidifier I am as
sure as I can be that you will be happy with it. Our visitors and I would be pleased to learn about your experiences if you would care to write a review for me to publish here.

---
You are here....Home > Santa Fe > Santa Fe Force