Santa Fe Max Dry Dual XT
Dehumidifier Review


The Santa Fe Max Dry Dual XT is the most powerful dehumidifier in the Santa Fe range. For any one with a large crawl space, up to 3,600 sq ft, this is clearly the best model available in the market today. It is the only available purpose built crawl space dehumidifier suitable for a truly large area.


In consumer reviews the Max Dry receives outstanding ratings and few dehumidifiers are more highly valued by their users. I can recommend this model to our visitors without reservation.

The Max Dry can also be used in a large basement and for one exceeding 3000 square feet there are few alternatives to this appliance. Indeed you would need at least two separate units from any other manufacturer to cope with an area of this size.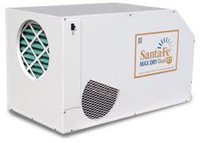 In a very large area it advisable to use ducting to ensure sufficient air circulation to obtain an even level of humidity. An incidental advantage of ducting is that the unit may be placed in an enclosed space where it is out of sight and where the noise nuisance is reduced. The Santa Fe Max Dry is compact for its power so finding or creating such an enclosure should not pose too many problems.

Engineered to commercial standards the Santa Fe Max Dry is well able to cope with the rigors of a cold, wet crawl space. Energy Star® certified this unit has an energy factor of 3.56 litres per kilowatt hour which puts most of its rivals to shame.


Features

Simple to install - the hardest task is getting this unit in place, a two person job. After that just install the drain hose and attach to a power source


Adjustable feet - to ensure that the unit is level on an uneven surface


Long, low profile - to fit easily into a crawl space or a restricted area in your basement


Low maintenance - clean the air filter every couple of weeks and replace every six to twelve months; that's it


Easy to control - reliable manual switches and analogue humidistat


Auto-restart – if there is a power outage this feature ensures the unit resumes operation as soon as power is restored


Low temperature capability – effective in temperatures as low as 56°F


Powerful auto-defrost feature


Adjustable humidistat


Designed for continuous drainage - no bucket to empty


Optional condensate pump - to drive the water to a more distant outlet if there is no floor drain or sump


MERV-11 air filter – not only protects the dehumidifier but removes allergenic particles from the air


Dual air distribution - air blows out from both sides of the appliance for better air circulation


Flexible fan operation - can be set to run continuously or to stop when the compressor switches off


Designed for ducting - the Santa Fe Max Dry may be operated in stand alone mode but ducting increases effectiveness in large spaces


Optional ducting kit available


Energy efficient – capable of removing a massive 3.56 litres of moisture for every kilowatt hour of energy used


Ozone friendly refrigerant


Specifications
Model Number - 4031470


Water Extraction Rate - 155 pints per day at 80°F/60%RH (AHAM) (310 pints per day at saturation)


Operating Temperature Range - 56°F (13°C) to 95°F (35°C)


Max. Air-Flow Volume - 391 CFM (664 m3 per hour)


Fan speeds - 1


Max. room size - 3600 square feet (380 m2)


Power Requirement - 8.0 Amps/115 Volts/920 Watts


Energy Star Qualified - Yes


Energy Factor - 3.56 L/kWh


Refrigerant - R-410A


Height - 21.75"


Width - 20.25"


Depth - 38"


Weight - 140lbs


Drain Hose Length - 8ft


Noise Output - 68 dB


Warranty - 5 Year Limited. 1yr parts and labor + 4yrs on sealed refrigeration system


Manufacturer's Information
Santa Fe Max Dry Manual


Applications

The Max Dry is designed for use in a crawl space. It has a long, low profile to fit into the restricted head room available, is durable and capable of working effectively in cool ambient temperatures.

This model is equally suitable for a large basement and may be preferable in such an area to multiple units of smaller capacity that will be more expensive to operate.


Consumer Reactions

Reviews of this model by users are very positive. These include many from owners of large crawl spaces and all report that the Max Dry is effective in spaces up to or even slightly exceeding the recommended maximum of 3600 square feet.

The high build quality of this model is frequently mentioned and a number of reviewers were pleasantly surprised by the attention to detail shown by the manufacturer. A typical comment made by one reviewer is "..the unit is made well, insulation is lining the interior of the sheet metal and covers for both sides of the filter are well made".

Users describe how easily the dehumidifier maintains the selected humidity level and how little operating time it takes for the unit to do this.

Many users had previously used portable models and have been pleasantly surprised by the reduction in energy costs achieved by the Santa Fe Max Dry. Some find the appliance noisy although this seems to cause little annoyance for most.

Those who bought the Max Dry for use in a basement echo the comments summarized above and express an equally high level of satisfaction with this product.


My Recommendation

In my judgement the Santa Fe Max Dry Dual XT Crawl Space Dehumidifier is an excellent appliance with no obvious flaws. It is well built and durable, highly effective, relatively quiet and has outstanding energy efficiency.

Despite the high initial outlay the Max Dry will out-perform portable models in both energy efficiency and longevity and should prove cheaper over its life-time. My view is that the Santa Fe Max Dry Dual XT is both technically and economically the best choice for a large crawl space or basement and I recommend it to our visitors without reservation.
---
You are here....Home > Santa Fe > Santa Fe Advance