Haier 45 Pint Dehumidifier
DE45EJ Review

The Haier 45 pint Dehumidifier (DE45EJ) is an Energy Star certified medium capacity room model suitable for use in medium to large areas of the home.

It has a 45 pints per day water extraction rate and is equipped for low temperature operation. Among the most notable features of this unit is its water collection container which with a capacity of 25 pints is unusually large for a unit in this class.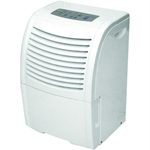 ---
Features

In common with most other models, the water extracted from the air by the DE45EJ is deposited in a water collection container, or bucket. This bucket has to be emptied at least once per day if the appliance is running for long lengths of time and it is a constant complaint of users that the bucket in their machine is too small and need emptying too frequently.
Haier have obviously listened to these complaints and installed a 25 pint bucket in their latest 45 pint model. There is, of course, a price to be paid for this advantage as the larger the bucket the larger the appliance has to be to accommodate it. As a result this model is a little larger than some and the jumbo bucket doubtless accounts for the "bow-fronted" design of the casing. Nevertheless this is a commendably compact machine for a unit of its capacity and buyers must decide which of the two competing priorities is the greater.


If emptying the bucket is an inconvenience, or merely one chore too many, this unit is equipped for
continuous drainage
via a gravity feed. A hose may be attached to a discharge port in the unit and the water drained to a convenient drain or other outlet. Because it is a gravity fed system the water will not travel uphill; to achieve this a separate condensate pump would be required.

The Haier 45 pint Dehumidifier is a portable unit and its caster wheels will make movement over smooth floors quite easy. For more awkward movements carry-handles are located on either side of the upper casing although at just over 40lb in weight this is not a unit you would choose to carry about too frequently.

An adjustable humidistat is installed in the DE45EJ which may be set for the level of relative humidity you wish to maintain. Provided the unit you have chosen is large enough for the area in which it's located this should ensure that the unit does not operate constantly but cycles on and off to keep the moisture level where you want it, thus saving energy. To provide a comfortable living environment, prevent moisture damage and mold growth and to deter dust mites a level of between 45% and 50% is sufficient.

This model is rated for low temperature operation with a minimum operating temperature of 41°F. This will make it suitable for operation in cooler areas of the house, such as a basement, but we would only recommend the use of a portable in a basement which is kept reasonably warm and where water seepage from outside the home is not a problem. For cooler, wetter basements and crawl spaces a purpose designed basement/crawlspace model is the preferable solution.

Other features of the Haier 45 pint Dehumidifier include auto-restart to ensure the unit resumes operation following a power outage, electronic controls with LED display, a 24 hour timer, two fan speeds and a washable air filter.
---
PRODUCT DETAILS
Brand
Haier
Model
Haier 45 pint dehumidifier DE45EJ
Application(s)
Domestic
Suitable for
Small/medium sized rooms
Portable
Yes
Carrying handle
Yes (2)
Wheels/casters
Yes
Weight (lbs)
40.8
Dimensions, inches (WxDxH)
14 3/8 x 15 3/8 x 25 1/4
Dehumidification process
Refrigerant
Water extraction
45 pints per 24 hrs
Water container capacity (pints)
25
Container full indicator
Yes
Auto-power cut off when full
Yes
Continuous drainage option
Yes (to nearby drain/sump)
Minimum operating temperature
41°F
Anti-frost
Yes
Electronic controls
Yes
Adjustable humidistat
Yes
Variable fan speed settings
Yes (2)
Noise level
TBA
Power input (watts)
590
---
Advantages
Humidistat, keeps humidity at a comfortable level and saves energy
Auto-defrost enabling low temperature operation
Large, 25 pint water collection container
Continuous drainage, avoids emptying water container by hand
Portable
Two fan speeds
24 hour timer
Auto-restart after power outage
Electronic controls and LED display

Disadvantages
Slightly larger than some comparable models to accommodate bigger bucket
---
---