GE ADER65LN Dehumidifier Review

The GE ADER65LN Dehumidifier is an Energy Star® qualified, large capacity dehumidifier capable of a maximum water extraction rate of 65 pints per day. This portable home dehumidifier is highly rated in many dehumidifier reviews written by consumers and is, in our view, one of the best dehumidifier models currently available.

This model has recently been replaced by the GE ADER65LP but stocks of the ADER65LN are still available for purchase. The two models are essentially identical and our dehumidifier review of the GE ADER65LP will replace this page when stocks of the ADER65LN are exhausted. You may read our review of the GE ADER65LP 65 Pint Dehumidifier by following the link below.

GE ADER65LP 65 Pint Dehumidifier Review

For a dehumidifier in this class it is quite compact being only a whisker short of two feet in height and only 11" deep. If you have a large area to dehumidify this appliance will handle the job comfortably. The GE ADER65LN Dehumidifier has received mostly favorable reviews from customers and is made by one of the World's largest home appliance manufacturers.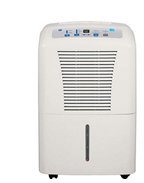 This powerful machine comes with all of the essential features required by a dehumidifier for use in larger areas, including basements, although, like all portable home dehumidifiers, the GE ADER65LN Dehumidifier will not be fully effective in cool temperatures, below 65°F.
---
Overview

The GE ADER65LN Dehumidifier is a portable home dehumidifier with soft touch, electronic controls for ease of use and auto-defrost to prevent damage when operating in low ambient temperatures. It has a front mounted water collection container and is also configured for continuous drainage to a nearby floor drain or sump.

The GE ADER65LN Dehumidifier has an auto shut-off control which switches off the unit when the bucket is full and an indicator lamp to alert the user that the bucket should be emptied. The refrigerant used is the ozone friendly R-410A and the dried air is vented from an outlet in the top-rear of the casing. The power cord is six feet in length and the unit is equipped with a carrying handle and caster wheels for ease of movement. The removable air filter is washable to enable regular cleaning.
---
Features

The GE ADER65LN is designed to be portable and is equipped with caster wheels to make movement easier on a single level and a top mounted handle for carrying the appliance to other locations. At 44lbs it is no light weight but this weight is typical of dehumidifiers in this class. The slim depth of the machine is an advantage when carrying the dehumidifier by the handle but the addition of side handles would be a useful improvement for the less muscular among us.


The GE ADER65LN Dehumidifier incorporates an
adjustable humidistat
, similar to a thermostat, controlling humidity rather than temperature. With this device you can pre-set the dehumidifier to any level of relative humidity (RH), in 5% increments, from 35 to 80%. We all want to save energy and this device ensures the dehumidifier will not continue operating once the chosen RH level is achieved. An added benefit is that the humidistat prevents excessive drying of the air which can make conditions uncomfortable for people and their possessions, especially items made of wood or leather.

Also included with the GE ADER65LN is an auto-defrost feature. Because most domestic dehumidifiers use a condensing process to remove water from the air ice will form on the refrigeration coils if the ambient temperature falls below around 65°F. People are often surprised that their dehumidifier's read-out shows it is "defrosting" in temperatures which are well above freezing but it is quite normal. An automatic defrost system counters this effect in order that the dehumidifier can continue to work safely in much lower temperatures without being damaged.

The ADER65LN Dehumidifier can operate safely in colder conditions, as low as 41°F. This can be an advantage in any part of the home, particularly in cold weather, but it does not make this unit suitable for low temperature operation. In cool conditions the effectiveness of any portable home dehumidifier is seriously degraded and its energy efficiency reduced.

For cool basements a purpose built basement dehumidifier will be more suitable and cheaper over its lifetime. In warmer conditions, however, this unit is ideal for a medium sized to large basement and many users have reported excellent results with this dehumidifier when used for this purpose.

Another useful, sometimes essential, feature of the GE ADER65LN is continuous drainage. Without using this feature you will find it necessary to empty the water collection container at intervals of between three times per week and three times per day. The dehumidifier will not spill water onto the floor if you fail to empty it but it will stop working until you do.

Continuous drainage allows you to run a hose to a convenient drain or sump to discharge the water. This feature relieves your body of the chore and your mind of the task of remembering to do it. Even more importantly, if you are away from home the dehumidifier can continue operating indefinitely, doing the job you bought it for. It will even get back to work after a power interruption as it is equipped with auto-restart.

The continuous drainage feature depends on gravity for the water to flow, there is no internal condensate pump. To aid the flow of water you will find it helpful to mount the dehumidifier a couple of feet above floor level.

The GE ADER65LN Dehumidifier has three fan speed settings which provide great flexibility when using the dehumidifier. Lower fan speeds mean less noise and many of you may wish to use these at certain times, such as when watching your favorite TV shows. Lower fan speeds, of course, slow the rate of water extraction so you may choose to use the higher speeds again when the noise level is less important.

The air filter is washable and should be removed regularly for cleaning. A blocked air filter may damage the dehumidifier and will certainly reduce both its effectiveness and energy efficiency. Fortunately with the GE ADER65LN Dehumidifier you will not have to rely on your memory to do this as the dehumidifier incorporates a filter cleaning indicator to remind you when the job needs to be done.

A simple timer is included with the dehumidifier so that you can set the appliance to switch off after two or four hours.
---
Manual

Click on the link to download the ADER65LN Manual.
---
PRODUCT SPECIFICATION
Brand
GE
Model
GE ADER65LN Dehumidifier
Application(s)
Domestic
Suitable for
Areas up to 1300 sq ft
Portable
Yes
Carrying handle
Yes, top
Wheels/castors
Yes
Weight (lbs)
44
Dimensions, inches (WxDxH)
15.38 x 11 x 23.63
Dehumidification process
Refrigerant
Water extraction (80°F/60% RH)
65 pints per 24 hrs
Water container capacity (pints)
17.5
Container full indicator
Yes
Auto-power cut off when full
Yes
Continuous drainage option
Yes (to nearby drain/sump)
Minimum operating temperature
41°F
Auto Defrost
Yes
Air Flow Volume (CFM)
195/175/155
Electronic controls
Yes
Adjustable humidistat
Yes
Variable fan speed settings
Yes (3)
Noise level
55 dB (high setting)
Power input
115v/6.8amps/710W
Energy factor L/kWH
1.8
---
Consumer Reactions

In dehumidifier reviews written by consumers there is universal agreement that this is a highly effective dehumidifier. Many experienced dehumidifier users report that this unit is comparatively quiet in operation while other users find this dehumidifier noisy, a common complaint about dehumidifiers generally and especially higher capacity units.

The GE ADER65LN Dehumidifier is reported to be very easy to use. The controls are said to be clear and intuitive, the bucket easy to remove and replace and filter cleaning to be a simple and quick operation.

The build quality of the GE ADER65LN Dehumidifier and the humidistat control are praised by users. General reactions to this dehumidifier are positive and, quite often, very enthusiastically so.

The only complaint is about noise. The GE ADER65LN Dehumidifier is a large capacity unit and its measured noise level is similar to other brands of similar capacity.
---
The GE ADER65LN Dehumidifier - Our Recommendation

In our judgement the GE ADER65LN Dehumidifier is an excellent dehumidifier that does everything that might be expected of it well and without fuss. It is competitively priced and we consider it to represent good value for money.

We are pleased to recommend the GE ADER65LN Dehumidifier to our visitors without reservation and we have every reason to believe that its replacement the ADER65LP will be an equally outstanding appliance.
---
---