Frigidaire FAD704DWD 70 Pint Dehumidifier Review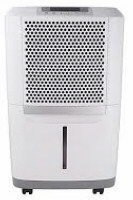 The Frigidaire FAD704DWD 70 Pint Dehumidifier is a well liked appliance which has been sold in large numbers and is still widely available through many outlets in town and online. In the huge number of user reviews now available there are, inevitably, some tales of disappointment but the overwhelming majority of purchasers report high levels of satisfaction with this appliance. If you prefer a tried and tested product the FAD704DWD may be a good choice for you.
The Frigidaire FAD704DWD is Energy Star® qualified and suitable for use in areas not exceeding 1300 square feet. This is sufficient for most basements and most users bought the FAD704DWD for basement use. The appliance has all the features that most users require and will perform best in a basement that is normally at or close to comfortable room temperature.
There is no particular area in which the Frigidaire FAD704DWD excels but it is a good all round performer with a proven track record which we consider well worth consideration if you are replacing your current dehumidifier or purchasing one of these appliances for the first time.

---
---
Features
Adjustable Humidistat - Use the control to program the level of humidity you wish to achieve and maintain. Drier is not always better. A level of 50% will protect your home and will cost less to maintain than a lower percentage.
2 Speed Fan - The higher level will deliver quicker drying but the lower level generates less noise. You can pick which the one that suits your needs or your mood on any given day.
Automatic Defrost - It is quite normal for ice to form on the cold coil, even at typical room temperatures. The ice reduces the efficiency of your appliance and in extreme circumstances may damage it. When the unit detects the ice the compressor cuts out while the fan continues to run. The flow of air melts the ice and, when it has gone, the compressor restarts. With this feature the unit can operate safely at temperatures as low as 41°F although it will be much less effective in such cool conditions.
On/Off Timer - This device allows you to instruct your dehumidifier to turn on or turn off at a specified time within the following 24 hours.
Auto Restart - A power outage will stop your dehumidifier. Auto-restart restarts your appliance at the last settings you programmed into the unit.   Not all dehumidifiers have this feature.
Continuous Drainage Option -This is a simple means to empty the water from the dehumidifier without using the bucket. A length of hose attached to the unit can carry the condensate to any convenient floor drain.
Full Tank Indicator - If you choose to rely on the bucket an indicator will alert you to empty it. If you miss seeing the indicator an Automatic Shutoff feature will stop the appliance to prevent leakage.
Washable Filter -The air filter protects the dehumidifier so it is essential to clean it at regular intervals.
Clean Filter Indicator - This indicator alerts you when the filter requires cleaning.
Portability - The Frigidaire FAD704DWD weighs a reasonable 46 pounds and with its four caster wheels and carry handle it can be moved easily within your home.
Frigidaire FAD704DWD 70 Pint Dehumidifier

Manual



Click on the link to download the Owner's Manual


Specifications
Maximum room size - 1300 square feet


Water extraction - 70 pints per day at 80°F and 60% RH


Container full indicator - Yes


Auto cut-off when full - Yes
Water container capacity - 16.3 pints

Continuous drainage - Yes
Fan operation - Runs only when compressor is operating


Air flow volume - 194 CFM (high)


Minimum operating temperature - 41°F


Auto-defrost - Yes


Electronic controls - Yes


Adjustable humidistat - Yes


Noise level - 53.4 dB (higher fan speed)
Carrying handle(s) - Yes


Casters - Yes


Weight - 46lbs


Height - 24.75"


Width - 16.125"


Depth - 11.312"


Power requirement - 115 volts/7.8 amps/745w watts
Power cord length - 6 feet

Energy Factor - 1.85 liters per kilowatt hour


Safety Certification CSA, UL


---
---
Consumer Reactions
Consumer reviews of the Frigidaire FAD704DWD 70 Pint Dehumidifier are plentiful and a large majority are favorable. Reviewers find the appliance effective and easy to live with and frequently report that it is superior to other brands they have used.
No particular virtue attracts large numbers of comments and the tone of reviews in general depicts the FAD704DWD as a "good all-rounder" with no one particular outstanding quality.
Our Recommendation
The Frigidaire FAD704DWD 70 pint dehumidifier is an effective appliance with a good track record and many satisfied customers to testify to its qualities.
As an established product this appliance warrants serious attention from those in search of a dehumidifier. Examples are still available for purchase but as this model has been superseded time to buy is limited.
In making a choice between the Frigidaire FAD704DWD and its successor, the FFAD7033R1, it may be helpful to some of you to be aware that the more recently introduced FFAD7033R1 is a couple of decibels quieter than the FAD704DWD. As the decibel scale is a logarithmic rather than a linear scale this difference will be a little more significant than it might first appear.

Despite this one reservation the Frigidaire FAD704DWD is a sound appliance and we are happy to recommend this dehumidifier to our visitors.

---
You are here....Home > Frigidaire > Frigidaire FAD704DWD