Frigidaire FFAD7033R1 70 Pint Dehumidifier Review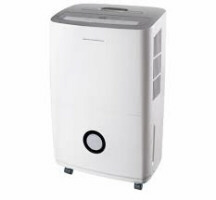 The Frigidaire FFAD7033R1 70 Pint Dehumidifier is the latest high capacity portable unit from this widely trusted company.  Large numbers of this model have already been sold and most purchasers report high levels of satisfaction with the newcomer. It is reported to be effective and efficient and a significant number of users describe this appliance as quieter than other dehumidifiers they have owned.
The FFAD7033R1 is Energy Star® qualified and rated for areas of up to 1300 square feet. It will manage humidity efficiently in a medium sized basement and has all the essential features and refinements you have come to expect from the best manufacturers. The only cautionary comment to be made is that, like all portable dehumidifiers, this model will be less effective in an exceptionally cool basement for which a more specialized model would be more appropriate.
Overall the Frigidaire FFAD7033R1 is a quiet, competent and effective appliance that compares favorably with its competitors and can be found at a keen price if you care to shop around. In common with all portable dehumidifiers this unit is unlikely to last more than a few years before it needs replacing but this seems to be the case with almost all home appliances in the modern world. In comparison with its direct competition the newest Frigidaire 70 pint dehumidifier represents good value for money and we are happy to recommend it to our visitors.
---
---
Features
Adjustable Humidistat -You may use this feature to program the level of humidity you wish the appliance to maintain. 50% is a comfortable level for most people and enough to protect your home and its contents.

3 Speed Fan -The fan is the main source of noise and this feature allows you to reduce that noise, perhaps while you watching the game or your favorite soap, or to turn the fan up when you need faster dehumidification.

Automatic Defrost - It is normal for frost to appear on the cold coils as they condense water vapor. When this happens the compressor stops and the flow of ambient air from the fan melts the ice. This is necessary to allow the appliance to continue dehumidifying and to protect it from damage. This allows the unit to operate safely at temperatures as low as 41°F although it will be much less effective in such cool conditions.

On/Off Timer - This device allows you to instruct your dehumidifier to turn on or turn off at a specified time within the following 24 hours.

Auto Restart - You may be away from home for a day or more and if your home is affected by a power outage your dehumidifier will stop working. Auto restart ensures that when power is restored your appliance will restart at the settings you programmed before you left home. Not all dehumidifiers have this feature.

Continuous Drainage Option -This is a simple means to empty the water from the dehumidifier without using the bucket. A length of hose attached to the unit can carry the condensate to any convenient floor drain.

Full Tank Indicator - If you are using the bucket an indicator will indicate when it's nearly full so you may empty it. If you don't notice or cannot see the indicator an Automatic Shutoff  feature stops the appliance from operating to ensure no water leaks occur.

Washable Antibacterial  Filter -The filter is crucial to maintain the effectiveness of a dehumidifier. It also traps many unwanted particles, including some bacteria, for healthier air. It should be cleaned every couple of weeks and is washable to make this procedure easier and more effective.

Portability - The Frigidaire FFAD7033R1 weighs a manageable 47 pounds. It has four caster wheels and a carry handle so can be moved easily within your home.
Frigidaire FFAD7033R1 70 Pint Dehumidifier Manual
Click on the link to download the Owner's Manual


Specifications
Maximum room size - 1300 square feet


Water extraction - 70 pints per day at 80°F and 60% RH


Container full indicator - Yes


Auto cut-off when full - Yes
Water container capacity - 13.1 pints

Continuous drainage - Yes
Fan operation - Runs only when compressor is operating


Air flow volume - 182 CFM (high)


Minimum operating temperature - 41°F


Auto-defrost - Yes


Electronic controls - Yes


Adjustable humidistat - Yes


Noise level - 51 dB (higher fan speed)
Carrying handle(s) - Yes


Casters - Yes


Weight - 47lbs


Height - 24.4"


Width - 15.0"


Depth - 11.625"


Power requirement - 115 volts/6.7 amps/745w watts
Power cord length - 6.5 feet

Energy Factor - 1.85 liters per kilowatt hour


Safety Certification UL


---
---
Consumer Reactions
A considerable number of reviews of the Frigidaire FFAD7033R1 70 pint dehumidifier have been posted and by far the larger proportion of these are very favorable.
Users report that this model is very effective and controls moisture in basements and other large areas with ease. The noise level is said to be moderate and the controls simple and straightforward to use.
Significant numbers of users comment favorably on the clean and pleasing appearance of this unit which, combined with its compact dimensions makes it unobtrusive in their homes.

Inevitably some bad experiences are reported, mainly concerning units that were faulty at the time of delivery. Such issues have usually been resolved with a replacement from the supplier but they are, of course, annoying and inconvenient.
Satisfied customers heavily outweigh the unhappy few and it is fair to say that user reactions are predominantly positive.

Our Recommendation
The Frigidaire FFAD7033R1 70 pint dehumidifier is an effective and capable appliance and is available at competitive prices from a number of well regarded suppliers.
Most users report high satisfaction with this model, both in terms of its performance and its quietness and appearance. Many compare it favorably with other brands they have used previously.
Some glitches are reported by a small number of users but no more than users of other leading brands and we have no hesitation in recommending the Frigidaire FFAD7033R1 to our visitors.

---
---
You are here....Home > Frigidaire > Frigidaire FFAD7033R1