Ultra Aire XT150H Dehumidifier Review

The Ultra Aire XT150H is ideal for the owners of larger homes and comes with a massive 150 pint water extraction capacity yet is still compact enough to be installed in a crawl space or other restricted area.

Rated for areas of up to 3,500 sq ft (manufacturers recommendation) this is an exceptionally energy efficient unit for the larger home.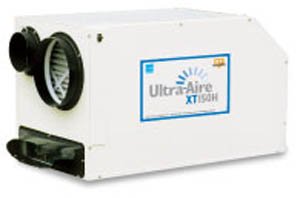 ---
Features

The Ultra Aire XT150H is offers unexcelled energy efficiency for a dehumidifier. It is Energy Star Qualified and has an energy factor of 3.74 litres of water per kilowatt hour, around twice as much as any room dehumidifier. Larger capacity dehumidifiers are usually more energy efficient than smaller units but this degree of efficiency is exceptional. It is made possible by the use by Therma-Stor of a technique whereby the incoming air is pre-cooled by the dehumidified air before passing over the refrigeration coils. This allows water vapour to be extracted from it with less energy expenditure and accounts for the extraordinary energy factor of 3.74ltr/kwh.


Despite its huge power this unit is very
compact
and measures only 37.5" x 22" x 20.63". This neat package with has been engineered to allow the dehumidifier to be installed in crawlspaces and basements where space is often limited. The Ultra Aire XT150H reaches every room in the house by using existing HVAC ducting or by means of a self-contained ducting arrangement. It can, therefore, be located anywhere and will not interfere with the appearance of the home nor be a distraction as a result of noise.

This dehumidifier is supplied through licensed contractors who will also undertake installation in accordance with Therma-Stor standards.

Crawlspaces and basements are usually cooler than other parts of the home and the XT150H is designed to operate in lower temperatures. Dehumidifiers for the home usually remove water vapour from the air by condensing it onto refrigeration coils. These coils are cool enough for ice to form on them even when the room temperature is as high as 65°F. Once ice has formed the dehumidifier pauses its operation to allow the ice to melt. The XT150H is equipped with an auto-defrost feature which melts the ice as it forms and allows the unit to operate at temperatures down to 56°F.

The Ultra Aire XT150H provides additional options for improving air quality, above and beyond dehumidifying. It can be configured to draw fresh outside air into the house to reduce the concentration of pollutants and to refresh the oxygen content of the air. This feature is completely under the control of the user. Two air filtration options are also available. The unit is fitted as standard with a MERV 11 air filter which will capture many unwelcome particles, including many mold spores. A MERV 14 can be installed as an optional extra to trap even more and smaller particles and the MERV 11 remains in place as a pre-filter.

The Ultra Aire XT150H also incorporates a humidistat which may be pre-set to a preferred level of relative humidity. Once this level is achieved the unit cycles on only when the chosen level is exceeded and off again once it is restored, another energy saving feature.

Users typically find that a level of 45-50% relative humidity is comfortable for the occupants of the home and, because less humid air "feels" cooler, a higher temperature setting can be maintained on air-conditioning systems saving yet more energy. 45-50% relative humidity will also prevent moisture damage, mold growth and the proliferation of dust mites.

The dehumidifier is also equipped for continuous drainage which allows the condensate to be discharged to a nearby drain or other outlet by means of a plastic hose. If the nearest outlet is at a level higher than the unit's location a condensate pump is available to force the water up to the next floor of the house.

Naturally a dehumidifier of this power and quality does not come cheap. The alternative, however, is multiple room dehumidifiers operating at half the energy efficiency and, in all probability, with much shorter working lives. The initial outlay may be too much for many people but if it can be found from within your budget this is most certainly a cost-effective solution for excessive moisture throughout a whole house.
---
PRODUCT DETAILS
Brand
Ultra Aire
Model
Ultra Aire 150H Dehumidifier
Application(s)
Domestic
Suitable for
Whole House
Portable
No
Carrying handles
No
Wheels/castors
No
Weight (lbs)
134
Dimensions, inches (WxDxH)
37.5 x 20 5/8 x 22
Dehumidification process
Refrigerant
Water extraction (80°F/60% RH)
150 pints per 24 hrs
Water container capacity (pints)
N/A
Container full indicator
N/A
Auto-power cut off when full
N/A
Continuous drainage option
Yes
Minimum operating temperature
56°F
Anti-frost
Yes
Electronic controls
Yes, remote control
Adjustable humidistat
Yes
Variable fan speed settings
No
Noise level
TBA
Power input (watts)
TBA
---
Advantages
Powerful, a purpose-built whole house dehumidifier
More effective than room dehumidifiers
Fully automatic humidity control
Highly energy efficient
Capable of operating in low temperatures
Continuous drainage, no bucket to empty
Improves air quality


Disadvantages
Initial cost
---
---