Ultra Aire 65H Dehumidifier Review

The Therma-Stor Ultra Aire 65H Dehumidifier is a high capacity unit designed for whole house dehumidification. With a water extraction rate of 65 pints per day this unit is suitable for apartments, smaller houses and condo's up to a maximum of 1600 sq ft (manufacturer's recommendation).

The 65H is remarkably compact its size and shape having been deliberately engineered to permit installation in the smallest spaces within the home.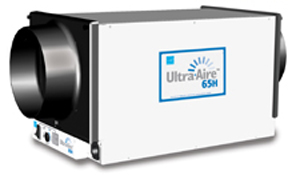 ---
Features

The Ultra Aire 65H Whole House Dehumidifier is Energy Star qualified and is highly energy efficient. Its energy factor is 2 litres per kilowatt hour and it is more efficient than room dehumidifiers of similar capacity, especially at lower temperatures.

This unit is extremely compact for a dehumidifier of its power and at 12"x12"x21" it will fit into a small area of the home with ease. It is installed taking advantage of existing HVAC ducting or by means of an independent ducting system and can be located in any convenient location, including a crawlspace. It is supplied through a network of licensed contractors qualified to undertake all installation work to the standard required by Therma-Stor.


The Ultra Aire 65H is capable of low temperature operation due to the incorporation of an
auto-defrost
feature. Because most dehumidifiers for the home extract water vapour by condensing it on to refrigeration coils ice will form on the coils at quite high temperatures, even 65°F. When ice forms it interrupts the operation of the unit and impairs its effectiveness. Auto-defrost actively melts the ice and enables the unit to continue operating powerfully at much lower temperatures, in this case 40°F. This allows the dehumidifier to work effectively wherever it is located, including in a basement or crawlspace.

The Ultra Aire 65H is equipped with a humidistat. This device senses the level of relative humidity in the air and cycles the unit on and off to maintain the pre-set level. This ensures that the dehumidifier operates only when needed which further improves its energy efficiency.

A level of relative humidity between 45 and 50% will suit most people and will protect your home against mold growth and other moisture damage. This level will also be sufficient to control dust mites which are a source of allergens, unpleasant for those sensitive to them. Once set the unit can be left to operate automatically and you will be confident in the knowledge that your comfort is assured and your property protected.

The 65H is simple to operate as a separate control panel is wired to the unit and placed in an accessible place. A remote control is available as an optional extra. Equally convenient is the continuous drainage system for disposal of the condensate. Rather than having to empty a water collection container, as with most room dehumidifiers, the condensate is drained continuously via a pipe run to a convenient drain, sump or other outlet.

A further benefit of this dehumidifier is a MERV-11 Air Filter. This filters out many of the mold spores and other unwelcome debris that might otherwise find their way into the house.

A dehumidifier of this quality and capacity is quite obviously not cheap and this may be viewed as a disadvantage. On the plus side, however, is the convenience of locating the unit unobtrusively, savings on the cost of energy and the reliability and longer life that may be expected of a dehumidifier that comes with a five year warranty.
---
PRODUCT DETAILS
Brand
Ultra Aire
Model
Ultra Aire 65H Dehumidifier
Application(s)
Domestic
Suitable for
Whole House
Portable
No
Carrying handles
No
Wheels/castors
No
Weight (lbs)
55
Dimensions, inches (WxDxH)
21 x 12 x 12
Dehumidification process
Refrigerant
Water extraction (80°F/60% RH)
65 pints per 24 hrs
Water container capacity (pints)
N/A
Container full indicator
N/A
Auto-power cut off when full
N/A
Continuous drainage option
Yes
Minimum operating temperature
40°F
Anti-frost
Yes
Electronic controls
Yes, remote control
Adjustable humidistat
Yes
Variable fan speed settings
No
Noise level
TBA
Power input (watts)
680
---
Advantages
Powerful, a purpose built whole house dehumidifier
More effective than room dehumidifiers
Fully automatic humidity control
Energy efficient


Disadvantages
Initial cost
---
---