Sunpentown SD350 Mini Dehumidifier Review

The Sunpentown SD350 Mini Dehumidifier is, as you might expect, light in weight and of small size overall. It works by means of Peltier (thermo-electric) technology, a process different from that used in the more familiar refrigerant models found in many homes.

Also known as an "electronic dehumidifier", this type operates with fewer moving parts. It employs a peltier heat pump which uses the principle that applying electricity to a panel consisting of two different materials, one on top of the other, like two slices of bread, creates a "heat flux" at the junction between the two materials.

One side gets hotter while the other gets cooler. Water vapor condenses on the cool side and is thus removed from the air. This "solid state" technology is, of course, quieter than the refrigerant process because there is no compressor but, since a fan is still required, it is not silent.

This technology is only suitable for removing very small amounts of moisture and the SD350, for example, has a water extraction rate of only 350ml, or about three quarters of a pint, per day.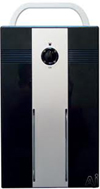 The Sunpentown SD350 is described in sales literature as being suitable for a nursery, small bedroom, closet or wardrobe. There is little doubt that the SD350 would be effective in a wardrobe or closet and its quiet operation would be an advantage if the closet/wardrobe was in a bedroom.

The main disadvantage is the cost of these units. Comparable results could be expected from one or two re-chargeable dehumidifiers. This type uses a desiccant, a water absorbing substance, to "soak" up the moisture and can be dried out for re-use by attaching it to an electricity outlet for six to eight hours every couple of months. They cost considerably less to buy, consume much less power, make no noise and do not require a constant power supply.

With respect to use in a room it is questionable whether a water extraction rate of three quarters of a pint would have any impact on even a small bedroom. The smallest bedroom imaginable will have a floor area of around 40 sq ft to accommodate a bed, small wardrobe and enough space to get into the room. A unit with a capacity of a few pints per day would be required to maintain relative humidity, at say 50%, without running constantly and uneconomically.

A dehumidifier of sufficient capacity for a given space should never run constantly with the possible exception of the first two or three days after it is installed.

Identical to the Sunpentown SD350 in all but one feature is the SD350 TI. The additional feature is an anti-bacterial system combining ultra violet light and a Titanium Dioxide mesh filter.
---
PRODUCT DETAILS
Brand
Sunpentown
Model
Sunpentown SD350
Application(s)
Domestic
Suitable for
Small, enclosed spaces
Portable
Yes
Carrying handle
Yes
Wheels/casters
No
Weight (lbs)
3.65
Dimensions, inches (WxDxH)
8 x 4.9 x 13
Process
Peltier (Thermo-Electric)
Water extraction
350ml per 24 hrs
Water container capacity (pints)
4.0
Container full indicator
Yes
Auto-power cut off when full
Yes
Continuous drainage option
No
Minimum operating temperature
N/A
Anti-frost
No
Electronic controls
N/A
Adjustable humidistat
N/A
Variable fan speed settings
N/A
Noise level
TBA
Power input (watts)
60
---
---