Santa Fe Advance
Dehumidifier Review
The Santa Fe Advance Dehumidifier is a purpose designed unit for medium to large crawl spaces.
Consumer reviews of the Advance are enthusiastic and I am pleased to recommend this product for any crawl space of up to 2,200 sq ft.
The Advance can also be used in a basement of similar floor area and slots in between the Santa Fe Compact and the Santa Fe Classic in both water extraction capacity and price; if you need something more powerful than the Compact, but not as large as the Classic, this model fits the bill perfectly.

Like all Santa Fe products this is a high quality machine internally engineered to cope with the harsh operating conditions of a crawl space and externally configured to be a compact package that will fit easily into the limited space available.
Santa Fe units are different from portable models of the type you might use in your living room or bedroom. They are engineered to commercial standards and designed for robust, durable and powerful performance in tough conditions.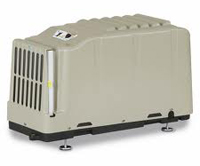 For this quality of product there is a premium price tag but, in my view, the Santa Fe Advance is one of the best dehumidifiers for a crawl space and represents good value for money.
Features
Energy efficient – removes 2.65 litres of water from the air per kilowatt hour of energy consumed


Easy to install - just plug in the power cable, attach the drainage hose and you're ready to go


Height adjustable feet to level the appliance on uneven surfaces


Low temperature operation – works effectively at temperatures down to 56°F


Auto-defrost system


Simple and reliable manual controls


Adjustable humidistat


Configured for continuous drainage to floor drain or sump


Optional condensate pump available if there is no convenient floor level water outlet


MERV-11 air filter – removes unwanted mold spores and other particles from the air


Auto-restart – switches back on automatically following a power outage


Configured for ducting to allow the unit to be located outside the drying area and/or to control humidity in two or more separate rooms


Optional ducting kit available


Low maintenance - simply check and clean the air filter regularly and replace every six months
Specifications
Model Number - 4029800


Water Extraction Rate - 90 pints per day at 80°F/60%RH (AHAM) (180 pints per day at saturation)


Height - 19.5"


Width - 14.5"


Depth - 34"


Weight - 67lbs.


Operating Temperature Range - 56°F (13°C) to 95°F (35°C)


Air-Flow Volume - 220 CFM (374 m3 per hour)


Fan speeds - 1


Max. room size - 2200 square feet (232 m2)


Noise Output - 64 dB


Power Requirement - 6.7 Amps/115 Volts/710 Watts


Energy Star Qualified - Yes


Energy Factor - 2.65 L/kWh


Refrigerant - R-410A


5 Year Limited Warranty - 1yr parts and labor + 4yrs on sealed refrigeration system

Applications
The Santa Fe Advance is suitable for crawl spaces and basements of up to 2,200 square feet in area with an ambient temperature typically at or above 56°F.

Consumer Reactions
To describe reviews of the Advance as positive would be an understatement. In the world of dehumidifier reviews enthusiasm is rare but this model is one of the few exceptions.

Consumers are delighted with the performance of this unit particularly,
the speed with which it reduces unwanted humidity and dries out the crawl space,


the ease with which it will maintain a relative humidity level of 45% and lower,


the modest amount of time the unit is operating to maintain that humidity level,


and the relatively smaller amount of energy it consumes compared with portable units.

Users are also impressed by the obvious quality of this machine, its robust construction and the size and power of the components it contains. They describe also how the Advance will operate flawlessly in cool temperatures in which their portables would be constantly iced up. The Advance is also described (by some) as being relatively quiet in operation.

Consumers are also impressed with the ease with this unit can be installed and most homeowners appear to have tackled this task alone. Some have commented that a second pair of hands would have been helpful to manoeuvre the unit into place but that levelling the appliance and setting up the continuous drainage were straightforward tasks.

There are always some things that can be improved and among the small dissatisfactions is a comment that it would have been helpful if Therma-Stor had included a hose clamp with the product.

The clear message from consumers is that they rate the Advance far more highly than the portables they had used before and have found it to be more effective, cheaper to operate and better value for money.
My Recommendation
The Santa Fe Advance is an excellent crawl space dehumidifier and it is difficult to fault. Despite its much higher initial purchase cost the Advance represents excellent value for money and for many users the life-time cost of this appliance will be lower than the succession of short-lived, power hungry portable units they may get through in the life-time of a single Advance.
I recommend the Santa Fe Advance Dehumidifier to our visitors without reservation.

---
You are here....Home > Santa Fe > Santa Fe Advance

---