Oasis Dehumidifier Review

The Oasis Dehumidifier Model D165HG is one of a kind - a portable model that works well when it's cold. By cold I mean cold enough for coat, gloves, scarf and a woolly hat, just a tad above freezing.

Most of us don't live in homes that cold but there may be parts of your castle that you don't spend much time in that can get that chilly, especially in winter.

While you may not linger in the icy depths of your unfinished basement or while away the hours in your freezing garage some of the things you own, even treasure, may be kept there.

Many of the items we store can be damaged by damp. They may be expensive to repair or replace, your car for example, or worth nothing in cash terms yet irreplaceable, such as family photos. Whether you need to protect your investment or your memories you may decide to look for a dehumidifier; but which ones work well in such bleak conditions?

The popular brands, such as Danby or Frigidaire, don't do a good job in the cold, they're just not designed for it. You could go for a Santa Fe or another model designed for use in cold spaces but they are expensive. For most garages and workshops a Santa Fe is over-kill and if your basement is small, say 4-500 square feet even the smallest of these specialized units is far more powerful than you need.

Until recently there was nothing in between but now you do have another choice; an Oasis Dehumidifier. This is not a cheap option, around $550, but this is half the price of the smallest Santa Fe model. Let me tell you about this appliance.


---
Oasis Dehumidifier Model D165HG - Description

The D165HG isn't made in the USA, or in China where most portables come from. It is manufactured in Poland to the specifications of a US company, Oasis International. Oasis has a long history, back to 1910, and is based in Columbus, Ohio. The D165HG is part of a family of commercial dehumidifiers although it looks like a typical portable. Only when you try to lift it will you notice that it's heavier than other lower capacity units.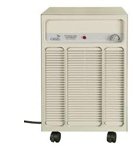 The extra weight is a good thing. It is heavier because the components inside it are tougher and better made than those you would find in an ordinary portable. In fact the D165HG is more like a small basement dehumidifier than, say, a 40 pint Danby portable.

The secret of the Oasis Dehumidifier's performance in cold areas is its defrosting system. In defrost mode a stream of warmed air is blown across the evaporator coils to speed up the process. This feature is often called "hot gas defrost".

The combination of an effective defrosting system and extreme ruggedness, backed by a five year warranty, makes the D165HG an ideal choice for use in cold areas such as an unfinished basement or garage. Reviews are scarce just now as this unit has only been available for a few months but those that have been published are very positive.
---
Features
Sturdy cabinet and robust components
Configured for continuous drainage (gravity feed)
"Hot gas defrost" for effective low temperature operation
Simple manual controls
Adjustable humidistat
Caster wheels
Carrying handles
3-point suspension to keep unit level on uneven surfaces
Five year warranty
---
Specifications
Model Number - DH165HG
Water Extraction Rate (AHAM) - 35 pints per day
Operating Temperature Range - 43°F (6°C) to 109°F (43°C)
Air-Flow Volume - 300 cfm (510 cu. m/hr)
Fan Speeds - 1
Noise Output - 59.8dB
Power Requirement - 480W Watts
Refrigerant - R134a
Height - 23.8"
Width - 15"
Depth - 14.3"
Weight - 51.8lbs.
---
My Recommendations

I am pleased to see this model on the market. It meets a need for a compact, affordable dehumidifier for those of you who keep valuable items in fairly small places where the temperature can drop down into the 40's F. Until now you would have been forced to pay over $1000 for a suitable appliance that is more powerful than you need.

This unit is built to last and, although no users have owned a D165HG for more than a few months, the manufacturer's five year warranty is a sign of confidence in their product. Users have described this model as well built and compared it favorably with the more common portable units imported from China.

Those of you who have tried to set up continuous drainage on some of the less well designed portable models will be pleased to hear that users of the D165HG have found the process simple and effective. This is important when we are talking about a unit that may have to operate unattended for long periods.

The power of this unit is not huge and we are talking about small to medium sized areas here. If you have a 2500 square foot basement this is not the right machine for you. The D165HG has proven effective in basements of up to 900 square feet so, within that limit, this model should be fine.

There are disadvantages to the D165HG, not the least of which is the price tag. I guess you get what you pay for and quality doesn't come cheap. Set against the cost of damage to cars, tools and equipment caused by moisture the price may not seem too high. At the end of the day only you can decide but I can tell you that this model will do the job.

Other minor disadvantages are the fairly high noise level and the less than pretty appearance of the D165HG. My own view is that neither matters a jot in a garage or a basement you spend no time in but that's just my opinion, you may disagree.

I have told you all about this model, warts and all, and my conclusion is that the Oasis Dehumidifier Model D165HG is an excellent choice for a smaller basement, garage or workshop which gets very cold at some times of the year. Compared with the effective alternatives the D165HG offers outstanding value for money and I am more than happy to recommend it.
---
---