GE ADER50LP Dehumidifier Review

The GE ADER50LP Dehumidifier replaces the popular and highly rated GE ADER50LN. For those seeking an effective and reliable medium capacity unit the ADER50LN has proved to be one of the best dehumidifier models they could choose from among the many home dehumidifiers in the market.

The ADER50LP is virtually identical to its predecessor and there is every reason to believe it will be as popular with consumers as the ADER50LN. While there are few dehumidifier reviews available at present to confirm this we are confident in recommending the Energy Star® qualified GE ADER50LP 50 Pint Dehumidifier to our visitors.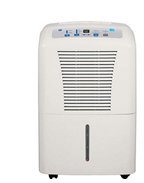 At the time of writing (May 2011) both the GE ADER50LN and the GE ADER50LP Dehumidifier remain on sale. There is little or nothing to choose between the two so if the opportunity to buy the ADER50LN at a lower price presents itself you have nothing to lose by picking the older model to save a few dollars.
---
Overview

The GE ADER50LP Dehumidifier is both pleasing to look at and easy to use with soft touch electronic controls and a clear digital display. This unit may operate safely in lower temperatures due to its auto-defrost system although, like most portable home dehumidifiers, it should not be considered as a low temperature dehumidifier. The water collection container is mounted in the front of the dehumidifier for easy removal and the GE ADER50LP Dehumidifier is also configured for continuous drainage to a nearby floor drain if you find this more convenient.

If you choose to rely on the bucket you will be reassured to know that it cannot over flow. An auto shut-off feature stops the dehumidifier when the container is full and a warning light on the control panel lets you know that it is time to empty it. The only other regular task you need be concerned with is cleaning the washable air filter which is easily removable and to make this procedure a simple one.

Moving the GE ADER50LP Dehumidifier is relatively easy as it has both a carrying handle and caster wheels, is compact and of reasonable weight. The refrigerant used is the ozone friendly R-410A which is in accordance with current regulations and contemporary thinking about environmental protection.
---
Features

The GE ADER50LP Dehumidifier is equipped with a feature known as auto-defrost. A refrigerant dehumidifier condenses water vapor from the air on to cold evaporator coils, like those inside your kitchen refrigerator. Ice will form on these coils at quite high room temperatures, around 41°F. and below. The ice reduces the effectiveness of the dehumidifier and can be damaging so to protect the dehumidifier it has an auto-defrost system.

Auto-defrost consists of a sensor, which detects the ice, and a switch which stops the compressor, suspending the refrigeration process. Meanwhile the fan is still running and the flow of air from the room helps to melt the ice. When the sensor detects that the ice has melted the switch restarts the compressor and normal dehumidifying can continue. With this system the GE ADER50LP can continue to operate safely in temperatures as low as 41°F.

The ability to operate without risk of damage does not make the GE ADER50LP a low temperature dehumidifier. The system depends on the air flow from the room and the cooler that air the longer each defrosting cycle will take. What is more in cooler temperatures ice forms more quickly and the net effect is that the dehumidifier soon spends more time defrosting than dehumidifying. As a result the dehumidifier removes less water and becomes less energy efficient with each degree by which the temperature falls.

For areas of your home which are typically at temperatures below 60-65°F for extended periods a portable home dehumidifier is not a good choice. In cooler areas with cold winters, for example, a purpose built basement dehumidifier is a better investment, both more effective and cheaper in the medium to long term. For a smaller basement in a warmer area, however, the GE ADER50LP Dehumidifier is a highly suitable choice for controlling excessive basement humidity, especially if your problem is most severe during the Summer.

The GE ADER50LP Dehumidifier is a portable unit and is a manageable 42lb in weight. For greater ease of movement both a top-mounted carrying handle and casters on the base are fitted. The dehumidifier is quite shallow in depth for a unit in its class which is helpful if it has to be moved up or down stairs. Since most dehumidifiers of this size are bought for use as basement dehumidifiers it is unlikely that moving the unit will be a frequent task following installation.

In practice your dehumidifier should require relatively little attention once installed in your chosen location. One task you can avoid is emptying the water collection container. Like most portable home dehumidifiers the GE ADER50LP Dehumidifier is configured for continuous drainage.

A port in the casing is provided to which a length of hose may be secured and the water will drain away as it drips from the evaporator coils. The drainage is by gravity feed so the drain or other outlet for the water must be below the level of the port in the dehumidifier and the hose must be arranged so that it slopes downward along its entire length. To assist drainage it may help to raise the dehumidifier a foot or two above floor level.

If you do not have a convenient floor drain or sump a separate condensate pump will be needed to force the water up to another floor or over a longer horizontal distance. Please ensure that the pump you buy has a vertical lift capacity of at least 12 and preferably 15 feet.

The air filter is washable and easy to remove. Cleaning the filter is the only regular maintenance task and should be done every two weeks or so. Helpfully the dehumidifier displays a warning light on the control panel when this task is due. Please do not neglect this task. Failing to keep the filter free of dust and other particles will reduce its effectiveness significantly and is a major cause of dehumidifiers breaking down prematurely.

If there is an interruption in your power supply the Dehumidifier is equipped for this too. The auto-restart feature will switch the dehumidifier on again automatically as soon as power is restored.

To regulate relative humidity the GE ADER50LP Dehumidifier incorporates an adjustable humidistat. This device operates like a thermostat and can be programmed for the level of relative humidity you wish to maintain at levels ranging from 35% to 80%. The US Environmental Protection Agency (EPA) and the Canadian Mortgage and Housing Corporation each recommend a level of relative humidity of between 30% and 50% in most conditions. For comfort, protection from condensation, mold and dust mites and to minimize energy consumption a level of 45% should be sufficient. Please note that when it is very cold (below freezing) outside a level as low as 30% may be needed to control condensation.

There are three fan speed settings available on the GE ADER50LP which gives you the option to choose between maximum dehumidifying power or minimum noise to suit your preferences during the day.

A simple timer is included with the dehumidifier so that you can set the appliance to switch off after two or four hours.
---
Manual

Click on the link to download the ADER50LP Manual.
---
PRODUCT SPECIFICATION
Brand
GE
Model
GE ADER50LP Dehumidifier
Application(s)
Domestic
Suitable for
Medium/Large areas
Portable
Yes
Carrying handle
Yes, top
Wheels/casters
Yes
Weight (lbs)
42
Dimensions, inches (WxDxH)
15 3/8 x 11 x 23 5/8
Dehumidification process
Refrigerant
Water extraction (80°F/60% RH)
50 pints per 24 hrs
Water container capacity (pints)
17.5
Container full indicator
Yes
Auto-power cut off when full
Yes
Continuous drainage option
Yes (to nearby drain/sump)
Minimum operating temperature
41°F
Auto-Defrost
Yes
Air Flow Volume (CFM)
195/175/155
Electronic controls
Yes
Adjustable humidistat
Yes
Variable fan speed settings
Yes (3)
Noise level
59 dB (high setting)
Power input
115v/5.2amps/540W
Energy factor L/kWH
1.8
---
The GE ADER50LP Dehumidifier
Consumer Reactions

Dehumidifier reviews by consumers are very few at present due to the very recent introduction of this model. Dehumidifier reviews of the virtually identical ADER50LN are very favorable however and we have no reason to believe that they will be any different for this model.
---
The GE ADER50LP Dehumidifier
Our Recommendation

In our judgement the GE ADER50LP Dehumidifier is one of the best dehumidifier models in the 50 Pint Class. It is competitively priced and we believe it represents good value for money.

We are pleased to recommend the GE ADER50LP Dehumidifier to our visitors without reservation.
---
---