GE ADER30LN Dehumidifier Review

The GE ADER30LN Dehumidifier is a smaller capacity, Energy Star certified dehumidifier with a maximum water extraction rate of 30 pints per day. In most respects it is identical to the larger capacity ADER40LN but weighs 1lb less, uses less electricity but has a lower energy factor (1.40 ltr/kwh compared with 1.55 ltr/kwh) than the larger capacity appliance.

In this review we shall touch briefly on its features, since these have already been covered in our review of the ADER40LN, and say a few words about how you may wish to decide which of the two models is more suited to your needs.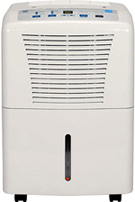 ---
Features

This dehumidifier is compact and portable

The ADER30LN has an adjustable humidistat which both saves money and ensures a comfortable environment for you and safety from mold and condensation for your possessions.

The ADER30LN comes complete with a defrost system which enables it to operate at temperatures as low as 41°F, making it suitable for use in a cooler area such as a basement.

The GE ADER30LN Dehumidifier is equipped for continuous drainage which relieves you of the need to empty the water container and allows the dehumidifier to operate while you are away from home.

Other features of the ADER30LN include electronic controls, a digital read-out showing the actual RH in the room, 3 fan speed settings, an indicator to show when the washable filter needs cleaning and a timer to shut the machine down after either two or four hours.
---
30 or 40 pints, which is best?
The golden rule with dehumidifiers is
never buy one with "just enough" extraction capacity
and the rest of this discussion follows from that rule.

If Dehumidifier A is good up to 500 sq ft and Dehumidifier B to 750 sq ft and you have a space of, say 350 sq ft then the choice is clear, buy Dehumidifier A. If your space is around 475 sq ft we would recommend B.

The reasoning behind our recommendation is this. Dehumidifiers cost money to buy and money to run. The money you save on the ticket price may be wiped out in the life-time of Dehumidifier A if it has to run more hours per day to do its job than Dehumidifier B.

Compounding this is the fact that the larger the capacity of a dehumidifier, all other things being equal, the higher its energy efficiency. Hence the GE ADER30LN Dehumidifier has an energy efficiency of 1.4 litres of water per kilowatt hour whereas the ADER40LN has an energy efficiency of 1.55.

The first consideration then is that the larger machine may actually be cheaper overall.

The second is that the smaller machine will not only run for longer periods it will run at higher fan speeds. Both these dehumidifiers have three fan speeds. To increase the rate of water extraction the fan has to run more quickly. This not only uses more electricity but it increases the noise level.

The second issue to take into account is that the noise from the dehumidifier is likely to be heard for more hours of the day and at a higher level.

Obviously this is not a decision that we can make on your behalf but the points we have raised may help you to make a better informed decision to match your preferences and circumstances.
---
PRODUCT DETAILS
Brand
GE
Model
GE ADER30LN Dehumidifier
Application(s)
Domestic
Suitable for
Smaller areas
Portable
Yes
Carrying handle
Yes, top
Wheels/castors
Yes
Weight (lbs)
34
Dimensions, inches (WxDxH)
13 3/8 x 10 1/4 x 19 1/2
Dehumidification process
Refrigerant
Water extraction (80°F/60% RH)
30 pints per 24 hrs
Water container capacity (pints)
9.5
Container full indicator
Yes
Auto-power cut off when full
Yes
Continuous drainage option
Yes (to nearby drain/sump)
Minimum operating temperature
41°F
Anti-frost
Yes
Electronic controls
Yes
Adjustable humidistat
Yes
Variable fan speed settings
Yes (3)
Noise level
TBA
Energy factor L/kWH
1.40
Power input (watts)
410
---
Advantages
Compact
Portable
Humidistat, keeps humidity at a comfortable level and saves energy
Defrost, allows continuous operation in low temperatures and cool places
Continuous drainage, avoids emptying water container by hand
Off-timer
Digital humidity read-out
Auto-restart
Filter cleaning indicator

Disadvantages
None
---
Consumer reactions
Pros:
Water container easy to remove without spillage
Effective, including in basements
Quiet
Easy to operate

Cons:
None

GE ADER30LN Dehumidifier Summary
Consumer reaction is overwhelmingly favourable.
---
---