Frigidaire FFAD3033R1 30 Pint Dehumidifier Review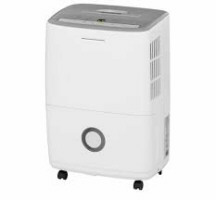 The Frigidaire FFAD3033R1 30 Pint Dehumidifier is the lowest capacity unit in Frigidaire's latest model line-up. Dehumidifiers of this capacity are rarely used in basements but are ideal for other rooms within the house such as bedrooms and laundry rooms and are often used in trailers and RV's.
As energy efficient as its "big brothers" the FFAD3033R1 is Energy Star® qualified and has all the advantages of the larger units while being more compact and convenient for smaller areas. Like all portable models this appliance works best at comfortable room temperatures and will not perform well in very cool locations.
There are not huge numbers of user reviews for this model since far fewer low capacity dehumidifiers are purchased but the bulk of those that are available are from satisfied customers and we are pleased to recommend the Frigidaire FFAD3033R1 to our visitors.

---
---
Features
Adjustable Humidistat - This feature allows you to program your preferred level of humidity and the appliance will operate throughout the day to maintain that level.

3 Speed Fan - This model boasts three fan speeds so you can choose between maximum drying at the high speed or slower drying at medium or low speed to suit your circumstances.

Automatic Defrost - Even at a comfortable room temperature ice can form on the cold coil within the dehumidifier. To protect the appliance the compressor is turned off while the fan keeps running in order that the flow of ambient air will melt the ice. This is fully automatic so you have nothing to worry about.

On/Off Timer - This device allows you to instruct your dehumidifier to turn on or turn off at a specified time within the following 24 hours.

Auto Restart - This feature restarts your appliance following any power outage. If the power goes out when you are out or asleep the FFAD3033R1 will turn itself on at the settings you programmed as soon as power is restored.

Continuous Drainage Option - This allows you to drain the water through a hose direct to a drain or other outlet. This saves you  emptying the bucket but it is necessary to have a nearby outlet at floor level to take advantage of continuous drainage as the water feed is by gravity alone.

Full Tank Indicator - If you are using the bucket you will be prompted to empty it when it is nearly full by an indicator on the appliance. If you are not close to the dehumidifier there is no need to worry as the Automatic Shutoff  feature stops the unit to prevent water seepage.
Washable Antibacterial  Filter - The filter prevents most particles from the air entering and damaging the dehumidifier. The filter is washable and should be taken out and cleaned every two weeks or so.

Portability - The FFAD3033R1 weighs only 34 pounds and with its casters and carrying handle is easily moved about your home.
Frigidaire FFAD3033R1 30 Pint Dehumidifier Manual
Click on the link to download the Owner's Manual


Specifications
Maximum room size - 400 square feet


Water extraction - 30 pints per day at 80°F and 60% RH


Container full indicator - Yes


Auto cut-off when full - Yes
Water container capacity - 7.6 pints

Continuous drainage - Yes
Fan operation - Runs only when compressor is operating


Air flow volume - 100 CFM (high)


Minimum operating temperature - 41°F


Auto-defrost - Yes


Electronic controls - Yes


Adjustable humidistat - Yes


Noise level - 52 dB (higher fan speed)
Carrying handle(s) - Yes


Casters - Yes


Weight - 34lbs


Height - 20.5"


Width - 13.8"


Depth - 10.5"


Power requirement - 115 volts/3.2 amps/320 watts
Power cord length - 6.5 feet

Energy Factor - 1.85 liters per kilowatt hour


Safety Certification UL


---
---
Consumer Reactions
There are relatively few reviews of the Frigidaire FFAD3033R1 30 Pint Dehumidifier because low capacity dehumidifiers are only bought in comparatively small numbers.
The reviews that are available are almost all positive. The effectiveness of the FFAD3033R1 is frequently commented upon but it is equally popular for its quietness and compact dimensions.
This model is clearly much appreciated by users and it is difficult to find any negative comments within published reviews.
Our Recommendation
The Frigidaire FFAD3033R1 30 Pint Dehumidifier is clearly an effective and popular appliance much appreciated by users. Used in locations suited to its capabilities it is one of the best lower capacity models on the market.

We consider the Frigidaire FFAD3033R1 highly suitable for smaller areas of the home, stationary or mobile trailers and RV's and are pleased to recommend it to our visitors.
---
---
You are here....Home > Frigidaire > Frigidaire FFAD3033R1