Frigidaire FAD954DWD 95 Pint Dehumidifier Review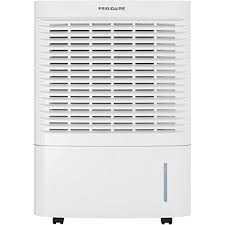 The Frigidaire FAD954DWD 95 Pint Dehumidifier is the highest capacity portable unit currently available from this manufacturer. This model is sold in smaller numbers than 70 and 50 pint units for the simple reason that fewer homes have a basement of sufficiently large area to require an appliance of this capacity.
The number of reviews by users is correspondingly lower but there are enough to be able to report that most customers are pleased with their purchase and confirm that the FAD954DWD is perfectly capable of maintaining a safe and comfortable level of humidity in basements of up to 1800 square feet.
The FAD954DWD includes all the features that most users will need in this type of appliance. One exception is an integral condensate pump which a small number of reviewers would have preferred to see included. This may be because this model carries a significantly higher price tag than the 70 pint equivalent and a built in pump would add $50 to $80 to that price for something many of you do not need.
This model is effective, energy efficient and relatively quiet. The only down side is its price. If you need a dehumidifier for a basement of 1400 to 1800 feet only a model with this kind of capacity will be powerful enough. The choice then comes down to a portable or a basement dehumidifier, such as one sold by Santa Fe, which will be significantly more expensive. In that context the Frigidaire FAD954DWD 95 Pint Dehumidifier may offer better value for money for you.

---
---
Features
Adjustable Humidistat - This control allows you to set the level of humidity that you need for your personal comfort and to protect your home.
3 Speed Fan -The fan has three settings allowing you to choose a balance between maximum moisture removal (high speed) or lower noise level (medium or low speed).
Automatic Defrost - This feature is automatic and switches off the compressor while allowing the fan to run in order that the flow of air can melt the ice on the coil. This allows the unit to operate safely at temperatures as low as 41°F.
On/Off Timer - This device allows you to instruct your dehumidifier to turn on or turn off at a specified time within the following 24 hours.
Auto Restart - If your home is affected by a power outage auto restart ensures that when power returns the FAD954DWD will restart at your chosen setting settings.
Continuous Drainage Option - This is a simple means to empty the water from the dehumidifier, by gravity feed, via a short length of hose to a level outlet.
Full Tank Indicator - An indicator will show when the water container is nearly full. If you cannot see the indicator an Automatic Shutoff feature stops the appliance from operating to ensure no water leaks occur.
Washable Filter -The filter should be cleaned every couple of weeks and is washable to make this procedure easier and more effective.
Portability - The Frigidaire FAD954DWD weighs a hefty 69 pounds so you may not wish to carry it very often and be grateful it has four caster wheels!
Frigidaire FAD954DWD 95 Pint Dehumidifier Manual
Click on the link to download the Owner's Manual


Specifications
Maximum room size - 1800 square feet


Water extraction - 95 pints per day at 80°F and 60% RH


Container full indicator - Yes


Auto cut-off when full - Yes
Water container capacity - 9.4 pints

Continuous drainage - Yes
Fan operation - Runs only when compressor is operating


Air flow volume - 259 CFM (high)


Minimum operating temperature - 41°F


Auto-defrost - Yes


Electronic controls - Yes


Adjustable humidistat - Yes


Noise level - 53 dB (higher fan speed)
Carrying handle(s) - Yes


Casters - Yes


Weight - 69lbs


Height - 25"


Width - 18"


Depth - 14"


Power requirement - 115 volts/7.5 amps/745w watts
Power cord length - 6.0 feet

Energy Factor - 1.85 liters per kilowatt hour


Safety Certification UL


---
---
Consumer Reactions
Reviews of the Frigidaire FAD954DWD 95 Pint Dehumidifier are generally favorable and users are impressed by this model's ability to keep a large basement dry.
The relatively low noise level generated by this appliance is also much appreciated, particularly in view of its high water extraction rate. They are also pleasantly surprised to find that, although larger than a 70 pint model, its dimensions are still compact for a unit of its power.
The omission of an integral pump is lamented by a few reviewers but most find the simple, gravity feed continuous drainage feature sufficient for their needs.
Inevitably some bad experiences are reported but they are few. Satisfied customers heavily outnumber the unhappy and user reactions are predominantly positive.

Our Recommendation
The Frigidaire FAD954DWD 95 Pint Dehumidifier is effective and efficient although considerably more expensive than a 70 pint equivalent. Most users report high satisfaction with this model, both in terms of its performance and its quietness.
Given the generally high satisfaction levels we are happy to recommend the Frigidaire FAD954DWD to our visitors.
---
---
You are here....Home > Frigidaire > Frigidaire FAD954DWD