Frigidaire FAD504DUD Dehumidifier Review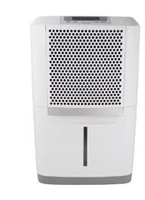 The Frigidaire FAD504DUD is one of the best dehumidifier models for use in a smaller basement.
The FAD504DUD is Energy Star® qualified and is an energy efficient appliance.
It was recently introduced as a replacement for the highly regarded FAD504TDD and seems just as popular with its users.
The new model has all the features of the FAD504TDD and is a more compact unit and a little less noisy.
Despite its excellent qualities the Frigidaire FAD504DUD is competitively priced and is available from some retailers for under $200.
In reviews of the new model most buyers say they are highly satisfied with their purchase.
The FAD504DUD suffered from a fault with its continuous drainage feature in the early days but a new drainage kit from Frigidaire seems to have cured this problem.
---
Frigidaire FAD504DUD - Features

Adjustable Humidistat
This feature manages relative humidity by cycling the compressor on and off to keep the moisture level at the level you set on the control panel. Relative humidity around the 45-50% level will prevent mold growth and keep you feeling comfortable.

Auto-Defrost
This feature protects the appliance from harm, when ice forms on the evaporator coils, by switching off the compressor and allowing the flow of air from the fan to defrost the coils.
Although this allows the unit to run safely at temperatures as low as 41°F the dehumidifier does not work well at temperatures lower than 65°F and is not the ideal choice for a cooler basement.

Continuous Drainage
If you attach a short length of garden hose to the small port at the rear of the casing the water may be discharged to a nearby drain to save you emptying the bucket.

Portable
This is a large and powerful model so it's fairly heavy. To make it easier to move it has caster wheels, so it can be rolled across the floor, and handles to allow you to lift and carry it safely.

Timer
If you prefer the appliance to run at times which are more convenient for you there is a 24 hour, on-off timer built in to this unit.

Auto-Restart
Power outages happen occasionally and never at a convenient time. The auto-restart feature means that when the power starts flowing again the FAD504DUD will switch back on at whatever settings were last programmed.

Electronic Controls
The FAD504DUD is controlled from a control panel with a digital display. You will find the "Ready-Select™" electronic controls intuitive and easy to operate.

Anti-Microbial Filter
The filter protects the appliance and should be cleaned regularly. If you remove and clean the filter a couple of times a month the unit will run better and last longer.
---
Manual

Click on the link to download the FAD504DUD Owner's Manual
---
PRODUCT SPECIFICATION
Brand
Frigidaire
Model
Frigidaire FAD504DUD Dehumidifier
Application(s)
Domestic
Suitable for
Small to medium sized areas
Portable
Yes
Carrying handle
Yes, top and sides
Wheels/casters
Yes
Weight (lbs)
39
Dimensions, inches (WxDxH)
16.1 x 11.3 x 24.6
Dehumidification process
Refrigerant
Water extraction (80°F/60% RH)
50 pints per 24 hrs
Water container capacity (pints)
TBA
Container full indicator
Yes
Auto-power cut off when full
Yes
Continuous drainage option
Yes (to nearby drain/sump)
Operating temperature range
41°F-96°F
Auto-Defrost
Yes
Air Flow Volume (CFM)
270/318
Electronic controls
Yes
Adjustable humidistat
Yes
Variable fan speed settings
Yes (2)
Noise level
53dB (high setting)
Power input
115v/6.6amps/615W
Energy factor L/kWH
1.6
Safety Certification
UL/CSA
---
Consumer Reactions
Reviews by users are very positive and this unit is proving as popular as the previous model.
Most people use large dehumidifiers in a basement and all reviews agree that the FAD504DUD sucks up lots of water and keeps a basement dry and mold free.
The electronic controls are very well thought of and users find them straightforward and easy to use.
Opinions about noise level vary. Some find this unit loud while others are surprised how much quieter it is than other dehumidifiers they have owned. No one finds this unit "whisper quiet" :).
The auto cut-off, which switches off the appliance when the bucket is full, operates effectively but allows the bucket to fill right to the brim. Some reviewers have complained about spillage because of this. Otherwise there are few complaints about the bucket.
Early deliveries of the FAD504DUD had a fault in the continuous drainage system. This only worked properly if the unit was tilted slightly backward. Frigidaire's new drainage kit has fixed this problem but you may see it mentioned in some of the earlier reviews of this model.
It is too early for reviews to give us any clue about how long this model will last.
---
The Frigidaire FAD504DUD Dehumidifier
My Recommendation
Frigidaire dehumidifiers are among the most popular of all brands and are the number one choice for visitors to this site. The FAD504DUD is selling strongly and seems likely to repeat the success of the model it replaces.
There is little doubt that this model is effective in a basement and, with the continuous drainage glitch fixed, it is as good as any of its rivals and better than many.
Compared with the FAD504TDD the new model is smaller overall and a touch quieter. A large capacity dehumidifier will never be compact or silent but these are still real improvements.
The FAD504DUD is less expensive than many other models in its class yet does just as good a job and is just as energy efficient. In my mind that makes it good value for money.
There may be differences between the Frigidaire FAD504DUD Dehumidifier and its competitors that will lead you to buy another brand but as a fully featured, effective and relatively inexpensive dehumdifier I can recommend it to you without reservation.
---