Ebac Triton Dehumidifier Review

The Ebac Triton dehumidifier is a medium capacity portable dehumidifier equally suitable for restoration, commercial, industrial and heavy duty domestic applications. For restoration specialists it is easy to transfer from site to site and its capability for one man operation makes it a highly attractive unit for the small to medium sized job. Home users with damp basements or crawlspaces will appreciate its effortless water removal capacity, even in the lowest temperatures.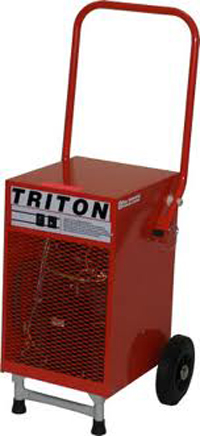 ---
Features

The Ebac Triton dehumidifier is designed for heavy duty in harsh conditions. It superior quality components, including a high efficiency rotary compressor, provide this unit with all it needs to provide optimum performance in a hostile environment.

The dehumidifier is durable on the outside too, with a robust chassis and casing built from steel and epoxy powder coated to further protect the unit from accidental damage and rough treatment. The package is built for reliable performance and a long service life.

Dehumidifiers often have to work in tight corners and the Ebac Triton is compact enough to occupy small spaces. The external dimensions are just 29 x 20 x 16 inches.


Although a little heavy at 75lb, the "price" of quality, the Triton is portable by virtue of a pair of wheels and an extending handle which allows the unit to be manoeuvred easily by one person. For professional restoration specialists it is easily transported by smaller vehicles between sites and can be comfortably managed by a sole operative.

Once in position the Ebac Triton dehumidifier will extract water at 51 pints per day at the AHAM specified conditions of 80°F and 60% relative humidity. In the circumstances for which this dehumidifier is designed conditions are frequently more extreme and this unit will extract up to 13 gallons at saturation. This is a powerful dehumidifier and capable of dealing effectively with an area of up to 800 sq ft (manufacturer's recommendation).

The most important advantage of the Ebac Triton is its capability for low temperature operation. Professional operators and some domestic users will be aware that dehumidifiers employ refrigeration coils to condense water vapour from the air. Because of the low temperature of these coils ice will form on them at surprisingly high ambient temperature, anything below 70°F. Unchecked ice formation degrades a dehumidifier's performance and limits their use in cooler areas.

The Ebac Triton incorporates hot gas defrost which actively melts the ice and enables the unit to function effectively at remarkably low temperatures, as low as 33°F. This is a benefit required by many professional operators, and by home users who have particularly heavy moisture problems in cold basements and crawlspaces. Room dehumidifiers are inadequate in these more challenging conditions and although this unit is more expensive than a room dehumidifier it is competitively priced in comparison with most specialized basement and crawl space units.

A feature of the Ebac Triton dehumidifier which is of equal interest to professional and domestic users is continuous drainage. Most home dehumidifiers, and some professional ones, are equipped for continuous drainage by means of a gravity feed. This means that the dehumidifier may be drained as the condensate is collected but only to a drain at a lower level than the outlet port in the unit and within about 20 feet or less.

This can be overcome using a separately purchased condensate pump but the Ebac Triton comes with a pump fitted inside the unit. This integral condensate pump allows a continuous feed up to 100 feet horizontally or 20 feet vertically from the dehumidifier offering much greater flexibility and convenience.

The noise level of the Ebac Triton is 57dB which is not quiet but comparable to room dehumidifiers of similar capacity. Noise is less likely to be intrusive in the typical applications of this dehumidifier and is a modest price to pay for its superior effectiveness.
---
PRODUCT DETAILS
Brand
Ebac
Model
Ebac Triton Dehumidifier
Application(s)
Restoration/Commercial/Domestic
Suitable for
Smaller/medium areas
Portable
Yes
Carrying handles
Yes
Wheels/casters
Yes
Weight (lb)
75
Dimensions, inches (WxDxH)
20 x 16 x 29
Dehumidification process
Refrigerant
Water extraction (80°F 60%RH)
51 pints per 24 hrs
Water container capacity (pints)
N/A
Container full indicator
N/A
Auto-power cut off when full
N/A
Continuous drainage option
Yes (integral condensate pump)
Minimum operating temperature
33°F
Anti-frost
Yes
Electronic controls
No
Humidistat
No
Variable fan speed settings
No
Noise level
57 dB
Power input
460W/2.5amps/115v
---
Advantages
Tough and durable
Compact
Portable
Auto-defrost enabling low temperature operation
Continuous drainage
Integral condensate pump


Disadvantages
None
---