Ebac FreeStar Dehumidifier Review

The Ebac FreeStar Dehumidifier. A new and capable addition to the Ebac commercial dehumidifier range and one of the best models in its class.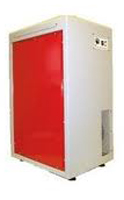 Description

The Ebac FreeStar dehumidifier is a powerful unit aimed at commercial and industrial operators.

It is suitable for medium to large sized areas of up to 10500 cubic feet (300 cubic metres) or around 1800 square feet.

The unit operates within a temperature range of 33-105°F (1-40°C) so will be of interest to operators across widely varying conditions in many different industries.

The Ebac FreeStar is compact for its power, with a small footprint, but is fairly heavy at 160lbs. This unit is clearly best suited for permanent or semi-permanent installation and for use in un-manned, remote locations.


This unit is equipped with simple, robust manual controls and has an internal, adjustable humidistat. A remote humidistat may be used if preferred.

The FreeStar is a strongly built and well protected unit that will withstand the rigors of harsher operating environments.

This model is well matched to the commercial and industrial applications for which it was designed but, given its current price - around $2000 - and its weight, the FreeStar will not be included in my recommendations for use by private householders in a basement.
---
Features
Energy efficient rotary compressor
Temperature sensitive defrost control
"Reverse Cycle" (hot gas) defrost system
Ductable
Manual controls
Backward inclined fan for maximum air circulation
Two fan speeds
25' power cord
Ground fault interrupter
Epoxy powder protective coating
Internal adjustable humidistat
Facility for remote humidistat
Integral condensate pump with 20' vertical lift
Quick release hose coupling
25' length PVC drain hose
2 stage cooling for more effective drying
Washable filter
Adjustable feet
25' power cable with cable-wrap
Status indicators for drying and defrosting cycles
---
Ebac FreeStar Dehumidifier Specifications
Model Number - 10283GR-US
Water Extraction Rate (AHAM) - 105 ppd (224 ppd at saturation)
Height - 38.1"
Width - 24.3"
Depth - 18.7"
Weight - 160lbs.
Operating Temperature Range - 33°F (1°C) to 105°F (40°C)
Air-Flow Volume - High: 538 cfm (914 m3/hr) Low: 437cfm (742 m3/hr)
Max. Room Size - 10,594 cu.ft (300 m3) or 1800 sq.ft.
Noise Output - Min: 57 dB Max: 70 dB
Power Requirement - 8 Amps/115 Volts/900 Watts
BTU/HR - 9,200
EER 10.8
Refrigerant - R407C
Warranty - 1yr. parts and labor
---
Manufacturer's Information

Ebac FreeStar Brochure (PDF)

Ebac FreeStar Manual (PDF)
---
Applications

The FreeStar is recommended by Ebac for a wide variety of commercial and industrial uses. These include areas ranging from storage areas through offices and computer rooms to bars restaurants and museums.

This model is also suggested for use as in basements and apartments.
---
---
My Recommendations

My remarks in this section are based on the known characteristics of the Ebac FreeStar Dehumidifier. This is a relatively new model and there has been almost no published feed-back from users to date.

The compact dimensions of this unit will make it attractive to any operator with limited floor space.

The FreeStar is clearly very suitable for use by industrial and some commercial operators. The unit is durable and its ability to operate effectively across a broad range of temperatures will be very useful in storage and other areas in which temperature may vary considerably at different times of the day or through the seasons.

In areas such as offices and computer rooms the ambient temperature will, in many cases, vary much less and it is at this point that I begin to question the suitability of this dehumidifier for some of the applications suggested by Ebac.

The FreeStar is quite loud at the higher of its two fan speed settings and in relatively quiet working areas the noise level may disturb the concentration of employees and make conversation, both face to face and by phone, more difficult.

In public areas, such as catering establishments and museums for example, the noise level may be intrusive and annoying for customers and visitors. There are perfectly competent alternatives that will by fully effective in such places and have a lower noise output.

For the home user the FreeStar is unlikely to be the best choice whether for a basement or an apartment. For basement use there are cheaper models on the market that are equally effective. In an apartment the noise level would be an issue for most users and intolerable for many.

In summary, the Ebac FreeStar Dehumidifier is a sensible investment for industrial and commercial users for use in areas where humidity control is essential and the noise of the dehumidifier is tolerable. It is particularly well suited to areas subject to large variations in temperature where extremes of cold and/or heat are approached.

For quiet working locations, public areas and homes there are less noisy, often cheaper, alternatives which will be equally effective in the less extreme conditions which typically prevail.
---