DeLonghi DEC180E Dehumidifier Review

The DeLonghi DEC180E Dehumidifier is a medium to large capacity dehumidifier with a maximum water extraction capacity of 18 litres every 24 hours.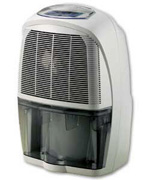 This dehumidifier is suitable for medium to large areas and is equipped with a facility for low temperature operation which means that it is suitable for use in cooler areas, including garages.
---
Features

The DeLonghi DEC180E Dehumidifier has an adjustable humidistat which allows the user to pre-set the level of relative humidity required. Once this has been set the appliance will simply maintain the preferred level, cycling on and off as required. This feature saves energy by ensuring that the dehumidifier is only working when necessary.


A setting of 60% will be sufficient to ensure that home contents are protected from water damage but a setting of 50% will be required to minimise dust mites which are a major source of allergens. 50% is entirely comfortable for most people and the humidistat prevents the dehumidifier from drying the air to a point where it becomes uncomfortable.

The DeLonghi DEC180E is also equipped with an electronic defrost system which enables the dehumidifier to operate at temperatures as low as 2°C which makes the appliance suitable for low temperature environments such as garages. Without this device a dehumidifier's refrigeration coils become covered in ice at any temperature below around 18°C and the machine will stop until the ice has melted.

The DEC180E has two special settings. One in an Eco Setting for minimising energy consumption and the other is a Laundry Setting at which the dehumidifier works harder so as to speed up the indoor drying of clothes. The dehumidifier is specially protected to resist damage from water splashes and very damp air to make it suitable for use in dedicated laundry rooms.

The DeLonghi DEC180E Dehumidifier is a quiet dehumidifier with a maximum noise output of 44dB. It is also portable weighing only 15 kg and equipped with both a carrying handle and castors for ease of movement.

For those who dislike the chore of emptying the water collection container there is the option of using the continuous drainage capability of the DEC180E. A drainage kit is provided which allows the user to run a small plastic pipe from the appliance to a convenient drain or other outlet so that the water may be discharged as it is collected. This drainage system works using gravity so the drain must not be higher than the dehumidifier and you may find it necessary to raise the appliance one or two feet above floor level to make this fully effective.

Other features of the DeLonghi DEC180E Dehumidifier include two fan speeds and the option to run the fan without the dehumidification function in order to pass the air through the air filter in the appliance to capture dust and other particles.
---
PRODUCT DETAILS
Brand
DeLonghi
Model
DeLonghi DEC180E dehumidifier
Application(s)
Domestic
Suitable for
Homes, medium to large spaces
Portable
Yes
Carrying handle
Yes
Wheels/castors
Yes
Weight (kg)
15
Dimensions mm (WxDxH)
360 x 300 x 570
Dehumidification process
Refrigerant
Water extraction (32°C/80% RH)
18 litres per 24 hrs
Water container capacity (Litres)
4.0
Container full indicator
No
Auto-power cut off when full
Yes
Continuous drainage option
Yes (drainage kit supplied)
Minimum operating temperature
2°C
Anti-frost
Yes
Electronic controls
No
Adjustable humidistat
Yes
Variable fan speed settings
Yes (2)
Noise level
40-44 dB
Power input (watts)
280
---
---
Advantages
Adjustable humidistat, saving energy, prevents humidity falling too far
Defrost system, will run at lower temperatures
Continuous drainage, once set up avoids the need to empty water container by hand
Quiet
Portable
Eco and Laundry settings

Disadvantages
None
---
Consumer reactions


Pros:
Effective
Well made, solid
Efficient, no excessive power bills

Cons:
Can be noisy
Water container is difficult to remove and replace
A handful of reports of defects appearing after a few months of use

Summary
Consumer reaction is generally positive with no complaints about effectiveness, some about noise, a few about defects.
Taken as a whole most would recommend this product to a friend or family member.
---