DeLonghi DES16E Dehumidifier Review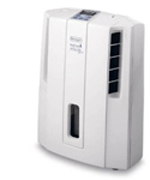 The DeLonghi DES16E Dehumidifier is the most powerful model in the DeLonghi DES Dehumidifier range
The DES16E is able to extract up to 16 litres of water per day from moist air.
The DES16E is as quiet, compact and light-weight as the other DES models but includes several extra features.
These features include electronic controls, two fan speeds and fan-only operation.
The DES16E uses a little more energy (20 watts) than the DES14 but is energy efficient for its water removing capacity.
Although recommended by some sellers for a 4/5 bedroom house the DES16E will perform best in a single room, such as a large lounge/dining area.
Dehumidifier reviews by consumers are generally positive but there is a common complaint about the continuous drainage feature.
With the exception of this flaw the DeLonghi DES16E Dehumidifier has some fine qualities and, with this sole reservation, I can recommend it to you as a sound buy.
---
---
Features

Electronic Controls
Unlike the other models in the DeLonghi DES Dehumidifier range the DES16E has an electronic control panel which includes a digital read-out displaying room temperature and relative humidity.

Adjustable Humidistat
Among the controls accessed from the panel is the humidistat which regulates the working of the dehumidifier to keep humidity stable.

Continuous Drainage
If you prefer not to empty the three litre water bucket a couple of times a day the DES16E can be set up for continuous drainage using the hose supplied with the unit. Please make sure that there are no kinks in the hose and that it is angled downward over its entire length.

Compact
One of the strengths of the DES range is its small size which is valuable in rooms with little spare floor space.

Light-Weight
The DES16E weighs only 9kg so can be moved easily using the top mounted handle or the removable castors.

Two Fan Speeds
An additional refinement of the DES16E is a choice of two fan speeds. The fan may be run independently of the dehumidifier if you choose.

Quiet
The DES dehumidifiers are among the quietest in their class and the DES16E produces just 38-42 dB of noise depending on the fan speed selected.

Energy Efficient
The DES16E uses only 250 watts of power per hour so is energy efficient for its capacity.

Bio Silver Tech Air Filter System
In my opinion this is little more than a gimmick but may appeal to some.

Auto-Defrost
Auto-Defrost protects the dehumidifier from damage due to ice forming on the cold coils. It should not be taken to mean that the DES16E is ideal for your cold garage. For cold places you really need a dehumidifier with hot gas defrost, such as the Mitsubishi MJE16V or a desiccant unit such as the DeLonghi DNC65.
---
PRODUCT SPECIFICATION
Brand
DeLonghi
Model
DeLonghi DES16E dehumidifier
Application(s)
Domestic
Suitable for
Medium sized areas
Portable
Yes
Carrying handle
Yes
Wheels/castors
Yes
Weight (kg)
9.0
Dimensions mm (WxDxH)
375 x 190 x 485
Dehumidification process
Refrigerant
Water extraction (32°C/80% RH)
16 litres per 24 hrs
Water container capacity (Litres)
3.0
Container full indicator
Yes
Auto-power cut off when full
Yes
Continuous drainage option
Yes (drainage kit supplied)
Operating temperature range
2-32°C
Air Flow Volume
120-160 m3/hr
Auto-Defrost
Yes
Electronic controls
Yes
Adjustable humidistat
Yes
Variable fan speed settings
Yes(2)
Timer
No
Auto-restart
No
Noise level
38-42 dB
Power input (watts)
250
---
Consumer Reactions
Users who have written reviews of the DES16E are pretty happy with their purchases.
The DES16 clearly works well provided that it is used in areas at normal room temperature, around 18°C or above, for which it is designed.
The DES16 is often bought by people who prefer a compact unit and many reviewers have described it as "surprisingly" small for its power.
While there are always some who complain about noise from a dehumidifier most users find the DES16E quiet and easy to live with.
A few reviewers have found the water bucket a little to tricky to remove and replace.
Many more have complained that the continuous drainage feature will not work effectively unless the dehumidifier is tipped back slightly.
---
My Recommendation
There is really not a great deal to say here. The DeLonghi DES16E Dehumidifier is an entirely competent model with many excellent design features and most of the functions you might need.
The fly in the ointment is the problem with continuous drainage. A three litre bucket is not large for a dehumidifier with a capacity of 16 litres per day so many of you will want to make use of the hose supplied.
It is not uncommon for dehumidifiers to have this problem and the solution is almost always to tip the unit slightly in the direction of the water port, usually the rear of the dehumidifier.
The fact that other manufacturers have built in this fault is no excuse for DeLonghi and this may be reason enough for you to cross the DeLonghi DES16E Dehumidifier off your short list.
If you only intend to use the bucket, or if you don't mind your dehumidifier doing an impression of the leaning tower of Pisa, the DES16 is, on every other count, a good choice.
With that reservation I can recommend the DeLonghi DES16E Dehumidifier to you as a quiet, compact and effective unit.
---
---