DeLonghi DES14 Dehumidifier Review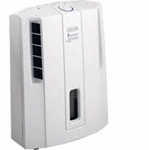 The DeLonghi DES14 Dehumidifier is a more powerful model than the DES12
The DES14 can remove up to 14 litres of water per day from the air but retains the same compact size and light weight of the DES12.
The DES14 is, on paper, a little louder than the DES12 but the difference is not noticeable
What will be noticeable is the higher energy cost. The DES14 consumes 230 watts per hour compared with 180 watts for the DES12.
The DES14 will run for fewer hours per day in a given area however so the extra cost will be less than it seems.
The DeLonghi DES14 Dehumidifier is suitable for slightly larger areas or for people who prefer their dehumidifier to run for shorter periods.
In all other ways the DES14 is identical to the DES12, has the same features and the same strengths and weaknesses
In view of the weaknesses I can recommend this dehumidifier to you but with qualifications that I expand on towards the bottom of this page.
---
---
Features

Adjustable Humidistat
With this control you can choose the humidity level you need and the dehumidifier does the rest. The DES14 will only run when humidity rises above the level you have set.

Two Drainage Options
You can let the water drip into the three litre collection bucket and empty it once or twice a day. If you prefer you can have the dehumidifier drain to a nearby outlet through the drainage hose provided. Please remember there is no pump inside the dehumidifier so make sure that the hose is running downward to your drain.

Compact
The DES14 has a very small footprint and can be located against a wall as its air vents are side mounted. This may be helpful where floor space is tight.

Light-Weight
The DES14 has a retractable carry handle and castors and its 9kg weight is easily moved around the house when needed.

Quiet
Although a little louder than the DES12 the DES14 is very quiet by dehumidifier standards with a noise output of just 40dB.

Energy Efficient
The extra water removing power comes at a higher energy cost but this dehumidifier still uses only 230 watts per hour.

Bio Silver Tech Air Filter System
This sounds good and gives a little extra protection against airborne bacteria but is of marginal benefit. If you are sensitive to airborne particles of any kind an air purifier is infinitely more effective.

Auto-Defrost
Please don't be misled by this feature. It does not make this unit a low temperature dehumidifier. What it does is to protect the dehumidifier from damage caused by ice forming on the cold coils. The DES14, like most portable dehumidifiers, only works properly at normal room temperatures (above 15-18°C).
If you need a low temperature dehumidifier, in your garage for example, you could consider the Mitsubishi MJE16V with "hot gas defrost" or the desiccant DeLonghi DNC65.
---
PRODUCT SPECIFICATION
Brand
DeLonghi
Model
DeLonghi DES14 Dehumidifier
Application(s)
Domestic
Suitable for
Medium sized areas
Portable
Yes
Carrying handle
Yes
Wheels/castors
Yes
Weight (kg)
9.0
Dimensions mm (WxDxH)
375 x 190 x 485
Dehumidification process
Refrigerant
Water extraction (32°C/80% RH)
14 litres per 24 hrs
Water container capacity (Litres)
3.0
Container full indicator
Yes
Auto-power cut off when full
Yes
Continuous drainage option
Yes (drainage kit supplied)
Operating temperature range
2-32°C
Air Flow Volume
160 m3/hr
Auto-Defrost
Yes
Electronic controls
No
Adjustable humidistat
Yes
Variable fan speed settings
No
Timer
No
Auto-restart
No
Noise level
40 dB
Power Supply
230 Watts
---
Consumer Reactions
Dehumidifier reviews of the DeLonghi DES14 are largely full of praise for this model. There are some complaints however.
Most reviewers have used the DES14 inside their homes and have been pleased with the results. A smaller number have tried this model in cooler places where the results have been disappointing.
The small size of the DES14 has pleased users and the ability to site the unit flush with a wall has been useful for some.
Comments about noise are mixed. Some find it noisy while others are surprised by how quiet the DES14 is compared with previous dehumidifiers.
There are few comments about build quality but where this is mentioned the reviewers have been impressed by the "robust" and "solid" components used.
A common complaint is that the hose supplied for continuous drainage is not strong or rigid enough to attach easily to the dehumidifier.
A number of reviewers have complained that the water collection bucket is too small.
Some dehumidifiers were faulty when delivered, a problem that has also been reported about the DES12.
---
My Recommendation
Complaints about noise and the size of water collection buckets are made about all dehumidifier models. It is an unfortunate fact of life that a dehumidifier cannot be compact if it has a large bucket. Buyers have to decide according to their priorities. All dehumidifiers are noisy; the DeLonghi DES14 Dehumidifier is one of the quietest in its class.
The complaints about the drainage hose are more serious. If the bucket is small to keep the size of the dehumidifier down then the least you should expect is that continuous drainage should be a breeze to set up. Seems to me DeLonghi has shot itself in the foot with this one.
It is not surprising to me that some users have had poor results from the DES14 in cold areas. This is less a criticism of DeLonghi than of some dehumidifier sellers who have mis-sold this unit. Fortunately you will not be misled as you have already seen on this page that the DeLonghi DES14 Dehumidifier is not a low temperature dehumidifier.
Defects in dehumidifiers as delivered are not uncommon but DeLonghi seems to be a little more prone to this than some other manufacturers. To be fair the proportion of reviews of the DeLonghi DES14 Dehumidifier where this is mentioned is much smaller than for the DES12.
Overall the DeLonghi DES14 is an effective dehumidifier with some excellent features, especially for smaller homes. Its compact dimensions, light weight and relatively quiet operation are highly desirable.
I can confidently recommend the DES14 to you but with some reservations. I have tried to give a balanced view of its advantages and flaws. No dehumidifier is perfect but if the special features of the DeLonghi DES14 Dehumidifier are important to you it may be the right choice for your home.
---
---