DeLonghi DEM10 Dehumidifier Review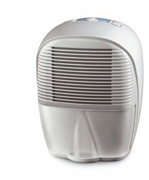 The DeLonghi DEM10 Dehumidifier is a lower capacity dehumidifier suitable for smaller spaces in your home.
The DEM10 can pull up to ten litres of water from the air in warm, humid conditions. Less water will be removed when the air is cooler and drier.
Like most DeLonghi Dehumidifiers this model has a small foot-print and will fit easily into a room with little spare floor space.
The DEM10 is also light in weight although a little heavier than the more recent DES series of DeLonghi Dehumidifiers.
By dehumidifier standards the DEM10 is a quiet dehumidifier although, of course, all dehumidifiers make some noise.
The DEM10 is a straightforward dehumidifier which includes all the essential features but lacks the "bells and whistles" of more expensive models.
If you are looking for a small, inexpensive and reliable dehumidifier that is easy to use I can recommend the DeLonghi DEM10 Dehumidifier to you. Dehumidifier reviews by users rate this model highly.
---
---
Features
Adjustable Humidistat
The humidistat control is a simple dial which is turned to set the level of humidity you prefer. Once set this device switches the unit on and off as needed to maintain that level.

Re-usable Air Filter
The filter is essential to protect the dehumidifier from dust and other airborne particles. It should be removed and cleaned every two weeks or so to keep the dehumidifier working as it should.

Energy Consumption
The DEM10 uses 190 watts of power every hour. This is about average for a dehumidifier in this class.

Quiet
The DEM10 produces a noise level of 38dB. This is quiet by dehumidifier standards although similar to other lower powered units on the market.

Compact
The foot-print of the DEM10 is a little less than one square foot and is one of the unit's main advantages.

Light-Weight
The DEM10 has a carry handle but lacks castors. At 10kg it is a manageable load and easy to move from room to room as needed.

Continuous Drainage
One disadvantage of a compact dehumidifier is that the water collection bucket is small, just two litres in this case. To get round this the unit can be set up to drain continuously through a hose supplied with the dehumidifier.

Auto-Defrost
Like most dehumidifiers the DEM10 works best at temperatures above 18°C. Below this temperature ice forms on the cold coils and the dehumidifier has to stop collecting water while the ice melts. This is called auto defrost. This feature protects the dehumidifier from damage but it does not make the unit suitable for cold areas, such as a garage in winter.
For cold area work there are other dehumidifiers you might consider such as the Mitsubishi MJE16V or the DeLonghi DNC65.
---
PRODUCT SPECIFICATION
Brand
DeLonghi
Model
DeLonghi DEM10 Dehumidifier
Application(s)
Domestic
Suitable for
Smaller areas
Portable
Yes
Carrying handle
Yes
Wheels/castors
No
Weight (kg)
10
Dimensions mm (WxDxH)
330 x 260 x 415
Dehumidification process
Refrigerant
Water extraction (32°C/80% RH)
10 litres per 24 hrs
Water container capacity (Litres)
2.0
Container full indicator
Yes
Auto-power cut off when full
Yes
Continuous drainage option
Yes (drainage kit supplied)
Operating temperature range
2-38°C
Air Flow Volume
100 m3/hr
Auto-Defrost
Yes
Electronic controls
No
Adjustable humidistat
Yes
Variable fan speed settings
No
Timer
No
Auto-restart
No
Noise level
38 dB
Power Supply
190 Watts
---
Consumer Reactions
There are literally hundreds of dehumidifier reviews of the DEM10 as the unit has been around for some time. Since its introduction the unit has been modified so it is important if you are doing your own research to pay attention to the more recent reviews.
What you will find is that there are far more positive reviews than negative and that many users are very enthusiastic about the DEM10. Most users have found that the DeLonghi DEM10 Dehumidifier works extremely well and does the job they bought it for.
Naturally there are niggles "..the bucket is too small...the unit is too noisy.." and so on. On the whole however, this dehumidifier has been well received by users and there are no major flaws reported in the current model.
---
My Recommendation
The DEM10 is not a sophisticated dehumidifier. It is a workmanlike, small dehumidifier that is fit for purpose.
The DeLonghi DEM10 Dehumidifier is not exceptional in any way except that it does its job and scores average or above average marks in every test.
Of course there are occasions when an individual DEM10 breaks down after a few months to a year and, naturally, the owner is upset and critical. Taken in the round however the DEM10 is at least as reliable as any other small dehumidifier and more reliable than many.
The lack of sophistication will not make the DEM10 popular with those who like plenty of buttons to play with but it will appeal to the many people who like their appliances to have intuitive controls and to be easy to operate.
Value for money is an issue and you will find a wide variation is the prices quoted by different retailers. It is always advisable to shop around and you should not be paying more than £120 for the DEM10 if you take the time to do so.
At that price, less if you can find it, the DeLonghi DEM10 Dehumidifier offers good value for money and I am more than happy to recommend it to anyone who wants a good basic dehumidifier for a smaller area of their home.
---
---