Danby DDR4010E Dehumidifier Review

The Danby DDR4010E is an Energy Star® qualified medium capacity dehumidifier and one of the best in its class for controlling humidity in a small basement. It is solidly built by a widely respected manufacturer and includes all of the features necessary for use in a small to medium sized area of the home.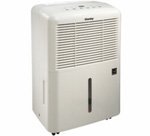 This model is lighter and more compact than the 50 Pint DDR5009REE and users with a smaller area requiring humidity control may appreciate its greater convenience and portability. User reviews are overwhelmingly enthusiastic about this model, whether used in a basement or elsewhere in the home.
The DDR4010E includes all the features of the larger models in the range including an adjustable humidistat, continuous drainage option, auto-defrost, electronic controls and auto-restart.

Although the noise output of the DDR4010E, measured in dB, is only a little less than the larger models most reviewers who have commented have found this to be a quiet unit.


---
We have no hesitation in recommending this appliance to our visitors provided the space for which it is intended in within the capability of a 40 pint unit to control easily. One or two reviewers have expressed regret that they did not purchase a model with a larger moisture extraction capacity.
---
Features

The DDR4010E is portable, comes with with four castor wheels and at only 35lbs should be easy to move to any area of your home. It is commendably compact and should fit comfortably in any home, even one where floor space is limited.

The Danby DDR4010E incorporates an adjustable humidistat with which any preferred level of relative humidity (RH) may be set, between 35% and 80%. Once set the machine will operate until the preferred level is reached and then cycle off and on to maintain that level.

This saves energy and ensures that the RH does not drop to a level which may be uncomfortable for you and damaging to your possessions. For protecting your home against mold and other problems associated with excessive humidity a level of 50% RH is usually sufficient.

Please note that on this model the fan runs continuously in order to provide ambient air to the humidistat so that it can sense the prevailing level of relative humidity and control the operation of the compressor.

An auto-defrost function is also included with this model.


Auto-defrost suspends the refrigeration process when it detects ice on the coils and allows the flow of ambient air to melt the ice. This does require the fan to continue running. This feature protects the appliance from damage but as ambient temperature falls the defrosting cycles increase in length and frequency, seriously degrading performance. This unit, like most portables, is not therefore suitable for use in areas where ambient temperature is below 60°F for days or weeks at a time. It will, however, ensure that the appliance can operate without risk of damage in temperatures as low as 41°F.

During months of continual use small particles of dust settle on the refrigeration coils and, because they are wet with condensed water, tend to stick. As these deposits build up they increase the tendency for the coils to become covered with ice and the performance of the unit is degraded. People usually remember that the air filter needs to be cleaned every couple of weeks but overlook the coils which should typically be cleaned about once a year to ensure the appliance continues to operate like new.

Another helpful feature available with the DDR4010E is continuous drainage. The water container in any dehumidifier is quite small, typically between 10 and 15 pints, in order to keep the external dimensions of the unit as small as possible and to make the container easy to empty. This often results in the user having to empty the container once or twice every day.

If you have a drain or other outlet close enough to the appliance a small plastic pipe can be run from the unit allowing it to drain continuously into the outlet.

Once the DDR4010E has been set up for continuous drainage it can operate unattended if necessary. In the event of a power outage it will be switched back into operation by the auto-restart mechanism, a feature not always included with portable models.

The Danby DDR4010E is equipped with soft touch electronic controls which are praised for their ease of use in many user reviews. In common with its "big brothers" the DDR4010E has two fan speeds providing the option, at the lower speed, of choosing a quieter mode, albeit at the cost of slower moisture extraction.
---
PRODUCT SPECIFICATION
Brand
Danby
Model
Danby DDR4010E Dehumidifier
Application(s)
Domestic
Suitable for
Small to Medium sized areas
Portable
Yes
Carrying handle
Yes
Wheels/castors
Yes
Weight (lbs)
35
Dimensions, inches (WxDxH)
13 3/8 x 9 15/16 x 19 7/8
Dehumidification process
Refrigerant
Water extraction (80°F/60% RH)
40 pints per 24 hrs
Water container capacity (pints)
TBA
Container full indicator
Yes
Auto-power cut off when full
Yes
Continuous drainage option
Yes (to nearby drain/sump)
Minimum operating temperature
41°F
Anti-frost
Yes
Air Flow Volume (CFM)
TBA
Electronic controls
Yes
Adjustable humidistat
Yes
Variable fan speed settings
Yes (2)
Noise level
54dB (high setting)
Power input
115v
---
Consumer Reactions
User reviews of the Danby DDR4010E are positive and there are no complaints about its performance.

Consumers have found the Danby DDR4010E to be reliable.

The DDR4010E has proved effective in smaller basements.

Users find this unit easy to move between different locations in their homes.

Those who have commented report this to be a quiet appliance.

Many comments have been forthcoming about the ease of operating this model.

The only dissatisfaction expressed by a few users is that the water container is smaller than they would prefer.
---
Our Recommendation
In our view this is an almost faultless dehumidifier and one we can recommend to our visitors. Provided the Danby DDR4010E is used within its limitations it should give effective and reliable service at a reasonable price.
---