Danby DDR3010E Dehumidifier Review

The Danby DDR3010E is a 30 pint Energy Star® qualified dehumidifier suitable for use in smaller areas of the home such as a bedroom. This model is built to Danby's usual high standard, including a full range of useful features to make it versatile and easy to use.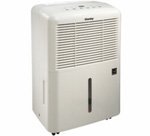 The Danby DDR3010E will control basement humidity effectively but with its relatively lower moisture extraction capacity will only be suitable for smaller areas. If your basement is larger than 400 square feet it would be advisable to consider a more powerful unit. For smaller areas the DDR3010E is one of the best models you could choose.

The DDR3010E includes many useful features including a humidistat adjustable across a wide range of settings, continuous drainage, auto-restart, soft touch electronic controls and auto-defrost.

User reviews of this model are fairly scarce as most buyers prefer more powerful models for their basements. Most of those who have used the DDR3010E however are very pleased with it and I am confident in recommending this model to you.


---
Features

The DDR3010E is equipped with a carrying handle and four fitted casters and is portable enough to move around with ease. This model will fit neatly into small spaces and has a very shallow depth of just under 10" so is convenient for a smaller room, perhaps a bedroom.

The Danby DDR3010E has an adjustable humidistat to control relative humidity at your preferred level. To supply ambient air, for the humidistat to sample, the fan runs continuously.

The DDR3010E includes an auto-defrost function. This protects the unit from damage while operating in ambient temperatures below 65°F. To ensure this function works as it is supposed to the evaporator coil should be cleaned about once a year.

The Danby DDR3010E is configured for continuous drainage. This is easy to set up and use if you prefer not to be emptying the bucket evey day.

The Danby DDR3010E is equipped with soft touch electronic controls which have been widely praised in user reviews. They are described as "simple to use and to learn".

Two fan speeds are available and at the lower of these two speeds, which is usually enough to control the moisture level, this unit is reported to be relatively quiet.

In the event of a power outage the auto-restart feature will switch the appliance back on when the power is restored. It will not, however, restore your programmed settings but returns to factory default which includes a programmed relative humidity of 60%.
---
PRODUCT SPECIFICATION
Brand
Danby
Model
DDR3010E
Application(s)
Domestic
Suitable for
Smaller areas
Portable
Yes
Carrying handle
Yes
Wheels/casters
Yes
Weight (lbs)
35.3
Dimensions, inches (WxDxH)
13 3/8 x 9 15/16 x 19 7/8
Process
Refrigerant
Water extraction (80°F/60% RH)
30 pints per 24 hrs
Water container capacity (pints)
TBA
Container full indicator
Yes
Auto-power cut off when full
Yes
Continuous drainage option
Yes (to nearby drain/sump)
Minimum operating temperature
41°F
Auto-defrost
Yes
Air Flow Volume (CFM)
TBA
Electronic controls
Yes
Adjustable humidistat
Yes
Variable fan speed settings
Yes (2)
Noise level
52dB (high setting)
Power input
115v
---
Consumer Reactions
User reviews all speak highly of the effectiveness of the DDR3010E. It is also praised for its easy portability.

The electronic controls are appreciated for their ease of use and the simple way in which the bucket may be removed and replaced is welcomed. The continuous drainage option is reported at be easy to set up and reliable in operation.

Consumers have found the Danby DDR3010E to be a reliable appliance.

Complaints are limited to dissatisfaction with the size of the water collection bucket (too small) and noise levels (too high).
---
Our Recommendation

Our considered judgement is that the Danby DDR3010E is one of the best small portable models available today. It is soundly designed, well made and represents good value for money.


---
---