Danby DDR2510E Dehumidifier Review

The Danby DDR2510E is lower capacity, Energy Star® qualified portable model with a maximum water extraction rate of 25 pints per 24 hours. It will be effective in areas of up to 350 square feet. The unit is well built, economical and relatively quiet.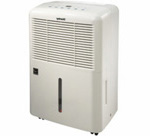 The Danby DDR2510E is the lowest capacity model in the range and also the quietest. Despite its lower moisture extraction capacity it comes with the full range of features included in the larger models and is ideal for use in smaller areas where its compact dimensions and low noise output may be appreciated. Any one who is looking for a reliable, effective yet quiet dehumidifier may wish to add this model to their short list.

Features include an adjustable humidistat to control relative humidity to the level you prefer, continuous drainage to avoid emptying buckets, auto-restart to switch the unit back on following a power outage and soft touch electronic controls for ease of use.

User reviews are positive and we are pleased to recommend this model as an ideal choice for controlling humidity in smaller areas.


---
Features

The unit is portable and a carrying handle makes its 35lb weight easy to lift. Casters are also supplied for ease of movement across a floor. This model is ideal for homes where floor space is restricted as its compact size will allow it to fit into small spaces comfortably.

The Danby DDR2510E incorporates an adjustable humidistat with which the level of relative humidity (RH) which suits you and your home may be programmed. The humidistat may be set at any level of RH within the range of 35% to 80%.

This model includes an auto-defrost feature. This allows the unit to operate safely in temperatures as low as 41°F.

The Danby DDR2510E is designed for continuous drainage. This feature is seldom used with units of this size but you may find it useful.

The appliance is operated by means of soft touch electronic controls which users report are easy to use and understand. An auto-restart feature is included which switches the unit back on after a power outage at the default settings (60% RH, low fan speed). It does not preserve the settings you programmed prior to the power outage.

There is a choice of two fan speeds so you may choose between faster moisture extraction (high) or reduced noise (low).
---
Manual

Click on the link to download the DDR2510E Manual.
---
PRODUCT SPECIFICATION
Brand
Danby
Model
DDR2510E
Application(s)
Domestic
Suitable for
Smaller areas
Portable
Yes
Carrying handle
Yes
Wheels/casters
Yes
Weight (lbs)
35
Dimensions, inches (WxDxH)
13 3/8 x 9 15/16 x 19 7/8
Process
Refrigerant
Water extraction (80°F/60% RH)
25 pints per 24 hrs
Water container capacity (pints)
TBA
Container full indicator
Yes
Auto-power cut off when full
Yes
Continuous drainage option
Yes (to nearby drain/sump)
Minimum operating temperature
41°F
Auto-defrost
Yes
Air Flow Volume (CFM)
TBA
Electronic controls
Yes
Adjustable humidistat
Yes
Variable fan speed settings
Yes (2)
Noise level
49dB (high setting)
Power input
115v
---
Consumer Reactions
Danby DDR2510E reviews by users are universally positive about its effectiveness in smaller areas, including small basements. It is praised for its moisture removal capability and elimination of mold growth and condensation.

Users confirm that this is a reliable and durable model.

It is reported to be easy to operate and light and compact enough to be portable around the home.

This model is regarded by most users who have commented as a quiet appliance, especially at the lower fan speed setting.

Some users have commented that the water container is too small.
---
Our Recommendation

We find the Danby DDR2510E Dehumidifier to be a thoroughly competent unit for use in small areas. It is well featured and reliable and we are pleased to recommend it to our visitors.


---