Comfort Aire BHD301G Dehumidifier Review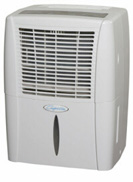 The Comfort Aire BHD301G Dehumidifier is among the best choices you could make for smaller areas of your home or a large RV.
With its 30 pints per day capacity the BHD301G will work at its best in areas of around 400 square feet.
Unlike lower capacity models from other manufacturers the BHD301G retains all the features of the larger units in the range including electronic controls and auto-restart.
One very useful feature is the programmable timer which lets you program the appliance to come on and go off during any 24 hour period.
Although the BHD301G has auto-defrost it will not work very well in cooler temperatures and would not be suitable, for example, as a garage dehumidifier during cold winters.
User reviews of the BHD301G are thin on the ground but those that are available are mostly positive.
Although not necessarily the best dehumidifier in its class the Comfort Aire BHD301G Dehumidifier is a solid performer and I can recommend it to you without reservation.
---
Features

Compact

One of the advantages of lower capacity models is their smaller size. Compact dimensions are an advantage in smaller rooms, such as a bedroom, or in a Recreational Vehicle (RV).

Portable

Along with smaller size comes lower weight and with its carrying handles and caster wheels this 30lb unit can be moved quite easily, another advantage in a cramped area.

Quiet

Smaller units are always quieter than more powerful models and if you plan to use it in your bedroom this will be an important issue for you.

Adjustable Humidistat

This feature lets you choose the humidity level that best suits you. If you are using the appliance where you sleep it is important for your comfort that the air doesn't get too dry or you may not feel at your best when you wake. A level of 50-55% may be more comfortable for many of you while sleeping.

Energy Efficient

The Comfort Aire BHD301G Dehumidifier is Energy Star qualified. It uses less energy while running than a larger model and for smaller areas will be the best option if you are watching the pennies.

Auto-Defrost

Auto-defrost is there to protect the machine from damage in lower temperatures. It does not make suitable for use in cold places so please don't be misled into buying this unit for use in areas such as an unheated workshop during cold winters.

Continuous Drainage

Many people who use smaller units are content to empty the bucket every day but, just like the larger models, the Comfort Aire BHD301G Dehumidifier can be set up to drain continuously through a short length of garden hose.

Auto-Restart

If you have to leave the appliance unattended you will certainly use the continuous drainage feature. Auto-restart is equally important in this case since it will switch the unit back on, at its last programmed settings, following a power outage.

Electronic Controls

Many smaller models have simple, manual controls but the BHD301G has the same easy to use electronic controls found on the bigger units in the range. Everything you need to know, including the ambient humidity level, is shown in the LED display.

Programmable Timer

This feature can be very useful. For example I set the dehumidifier in my bedroom to switch on a couple of hours after I go to bed. The noise it makes isn't enough to wake me but it might have made it hard for me to get to sleep in the first place.

Two Fan Speeds

On the subject of noise there are two fan speeds you can choose from. The lower speed is much quieter so if the noise disturbs your sleep this is the one to go for. The fan runs continuously in the BHD301G.

Washable Air Filter

The only regular maintenance your appliance needs is filter cleaning. It's easy to do, even easier to forget! Please don't neglect this little chore as it prolongs the life of the unit. An indicator light in the control panel reminds you when filter cleaning is due.
---
PRODUCT DETAILS
Brand
Comfort Aire
Model
Comfort Aire BHD301G Dehumidifier
Application(s)
Domestic
Suitable for
Smaller sized areas
Portable
Yes
Carrying handles
Yes, (2) sides
Wheels/casters
Yes
Weight (lbs)
30
Dimensions, inches (WxDxH)
13.375 x 9.3125 x 18.9875
Dehumidification process
Refrigerant
Water extraction (80&degF; 60%RH)
30 pints per 24 hrs
Water container capacity (pints)
10.5
Container full indicator
Yes
Auto-power cut off when full
Yes
Continuous drainage option
Yes (to nearby drain/sump)
Minimum operating temperature
41°F
Auto-Defrost
Yes
Electronic controls
Yes
Adjustable humidistat
Yes
Variable fan speed settings
Yes (2)
Noise level
TBA
Power input (watts)
490
---
---
Consumer Reactions
Smaller models are less popular than 50 and 70 pint units so reviews of the BHD301G are fairly few and far between. Those that can be found are mostly favorable.
Apart from concerns about short working life-times the most common complaint is about the fan running continuously, even when the compressor has cycled off.
On the whole users find the BHD301G a little quieter than similar units from other manufacturers.
Users like the electronic controls and find them clear and easy to use.
The BHD301G is quite often used in RVs and trailers and users are generally pleased with the results.
---
My Recommendation
Portable models currently sold in the USA are not made to last; typical life-time is about two years. The Comfort Aire BHD301G Dehumidifier is no different.
Continuously running fans are disliked by many users and if you are one of them the BHD301G is not for you. Despite what many people believe continuously running fans actually save energy so the only advantage of a fan that runs only when the compressor is operating is less noise nuisance.
In general terms the BHD301G is very similar to other 25-30 pint models but it is a little quieter than some, has two fan speeds and auto-restart which make it a tad more suitable than a number of other brands for use in your RV (all three features) or bedroom (quietness and fan speeds).
Based on these factors I can recommend the Comfort Aire BHD301G Dehumidifier without reservation for smaller areas in your home and for large vehicles.
---