Aprilaire 1770A
Dehumidifier Review


The Aprilaire 1770A dehumidifier is the most powerful of three whole home models in the range. With a moisture extraction capacity of 135 pints per day the 1770A can control humidity throughout a home of up to 2900 square feet.


If your moisture problem is confined to a single room of your home, the basement for example, there are other options you may wish to consider. If high summer humidity is causing discomfort and encouraging mold in all areas however a whole home unit offers several advantages.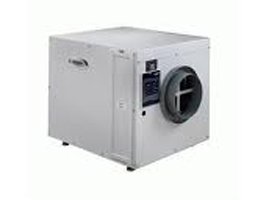 Only one appliance is needed, rather than a number of individual units. It is a part of your HVAC system, working with it to add precise moisture control to the cooling and heating systems already in place. It is located alongside your air-con unit or furnace in a location convenient for you and your family and where any noise nuisance will be least intrusive. It is more energy efficient than multiple portable units and will last longer.


The Aprilaire 1770A dehumidifier is one among several models from which you might choose. Its main advantages are the flexibility it offers through its three dehumidifying modes and a fresh air ventilation option together with its low noise output. Its biggest disadvantage is that it is not Energy Star qualified, unlike its major competitors.


Consumer reviews of the Aprilaire 1770A dehumidifier are fairly scarce but those that are available are positive. It is a competent appliance and if its particular advantages are important to you I would have no reason to steer you away from this model.


Features

Compact – despite its impressive power this unit measures no more than two feet in any dimension


Little maintenance – just annual cleaning of the drain trap and filter required


Energy efficient – much more efficient than a portable, especially at lower temperature (not Energy Star Qualified)


Manual controls – for ease of control and reliability


Adjustable humidistat – senses a rise in humidity and cycles the unit on when needed


Effective in low temperatures – removes moisture effectively at ambient temperature as low as 40°F


Automatic defrost – turns off the compressor and allows the fan to run, melting ice forming on the evaporator coil and preventing damage to the unit


Three operating modes:

1. Whole Home Mode - the 1770A works through your HVAC ducting to maintain a constant moisture level in the air

2. Spot Mode – the unit is ducted to a single large area, such as a crawl space or basement to control humidity solely in that space

3. Convertible Mode – the appliance reduces moisture throughout the home and, when the required level is reached, switches to a chosen area, such as a basement, which is more humid. Requires an optional "basement kit"
Ventilation - optional backflow damper allows fresh air to brought into your home when needed


MERV-8 air filter – the washable filter traps airborne particles to protect the appliance from damage and to enhance air quality


Auto-restart – switches the appliance back on after a power outage


Continuous drainage – the volume of condensate is far too large for collection in a bucket so it is drained to an adjacent sump or other outlet


Moderate noise level - 55dB, very low for a so powerful a unit


Ozone friendly - refrigerant will not contribute to depletion of the ozone layer


Specifications
Model Number - 1770A


Moisture Extraction - 135 pints per day at 80°F/60%RH (AHAM) (270 pints at saturation)


Max. Room Size - 2900 square feet (306 m2)


Operating Temperature Range - 40°F (5°C) to 105°F (40°C)


Max. Air-Flow Volume - 535 CFM (908 m3 per hour)


Fan speeds - 1 (runs only while removing moisture)


Max. Noise Level - 55dB


Power Requirement - 14.0 Amps/115 Volts


Energy Star Qualified - No


Height - 20.625"


Width - 20.75"


Depth - 24.0"


Weight - 100lbs


Refrigerant - R-410A


Warranty - 5 Year Limited


Applications
The Aprilaire 1770A dehumidifier is well suited to its purpose as a whole home unit. In common with most whole home dehumidifiers it can be operated in free-standing mode and could be considered for use in a basement where it would be very effective.


Consumer Reactions
Users who have written reviews are generally pleased with the 1770A and find it effective, fairly quiet and reliable. The limited number of such reviews makes it difficult to draw definite conclusions about this model but there are no indications of serious flaws or failures which should deter prospective buyers.


My Recommendation
My overall assessment is that the Aprilaire 1770A dehumidifier is an effective, soundly built and, as far as the evidence shows, reliable model. I have neither any reason to recommend it in preference to its main rivals nor any cause to advise you against purchasing it.


Your decision will depend upon your particular priorities. If the features of the 1770A suit your needs more precisely than models offered by other manufacturers I feel sure that you will be more than satisfied with it. If you are more concerned about other characteristics you may be drawn to choose an alternative. Should your first priority be energy efficiency, for example, it might be wiser to look at Honeywell or Ultra-Aire products before considering the 1770A.


My view on using the Aprilaire 1770A dehumidifier as a basement unit is more straightforward. It offers no advantage over a basement model from a reputable manufacturer and is less energy efficient so a basement unit is the better choice.

---
You are here....Home > Aprilaire > Aprilaire 1770A