Alen MDF3-74 Dehumidifier Review

The Alen MDF3-74 Dehumidifier is a powerful, Energy Star® qualified model with all the features required for use in a basement or any another large area within your home.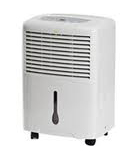 Although less well known than other leading brands the Alen 74 Pint Dehumidifier has received very high ratings in reviews and is being used by many satisfied customers.

The Alen MDF3-74 Dehumidifier comes fully equipped for use in the home. Features include a moisture removal rate of 74 pints per day, an adjustable humidistat to regulate relative humidity, continuous drainage to a nearby drain, electronic controls for ease of use, two fan speeds, auto-restart following a power outage, auto-defrost to protect the appliance in low ambient temperatures, carrying handle and castors for portability and a washable air filter.

Alen has a reputation for quality, established with their range of air purifiers, and it is to be hoped that this high quality has been transferred to their recently introduced range of dehumidifiers. All indications from user reviews would suggest that it has.



The Alen 74 pint model is somewhat more expensive than comparable models from more established manufacturers and the track record of Alen Dehumidifiers is not long enough for us to say that the higher price is justified by longer life and greater reliability.

We can say that the features and performance of this unit are comparable with the best of its competitors and that we have every reason to recommend it.
---
Features

The MDF3-74, in common with most portables, is a refrigerant type. It works by passing the inducted air across a metal coil which is cooled to a very low temperature and on to which water vapour in the air condenses. This is called an evaporator coil and is much the same as the one inside a kitchen refrigerator.


Because it is so cold ice can form on the evaporator coil at room temperatures as high as 65°F. When ice forms the appliance stops working until the ice melts. This limits the room temperature at which a refrigerant unit can operate and significantly reduces its effectiveness.

A system known as auto-defrost is incorporated into the Alen MDF3-74 Dehumidifier. With this refinement the machine can continue to function safely down to a temperature of 41°F. This system is there mainly to protect the unit from damage.

Auto-defrost turns off the compressor when ice is detected on the evaporator coil. This stops the refrigeration process. The fan continues to operate and the ambient air flow melts the ice. As the ambient temperature drops the periods when the appliance is defrosting occur more often. They also last longer which means the cooler it gets the less work the unit is able to do. For this reason a portable will not operate effectively at temperatures below around 60°F and would not be the ideal choice for an area in which the ambient temperature is below 60°F for long periods.

The Alen MDF3-74 Dehumidifier is portable and is equipped with castor wheels for easy movement across a smooth floor and with side carrying handles for use when it has to be moved over obstacles or by means of a stairway. At 53lb this is not a light burden for some people and there are models in the same class that are lighter. On the other hand the greater weight is due in large part to the quality of materials used in this appliance and the advantage must be measured against the disadvantage according to an individual's priorities.

The Alen MDF3-74 Dehumidifier includes an adjustable humidistat which can be set to maintain a relative humidity ranging from 35% to 80%. We recommend a setting no higher than 50% and in most circumstances it should not be necessary to go below 45% unless it is exceptionally cold outside. At 45% to 50% mold growth should be prevented; dust mites dislike conditions this dry and condensation is unlikely, except in that cold weather.

Once the desired level of relative humidity is achieved the humidistat will shut down the compressor, the heart of the refrigeration system. You will notice the fan running at times when the compressor is not. This is to provide air for the humidistat to check for rises in humidity so it "knows" when to restart the compressor.

The Alen MDF3-74 Dehumidifier is configured for continuous drainage. A thin hose may be attached to an opening in the unit through which the water may be drained to an adjacent drain. Despite the large bucket the unit would need to be emptied at least once a day so this is a considerable advantage. If you are able to raise the appliance a foot or so above floor level you will find this works more effectively.

The MDF3-74 has an auto-restart feature which switches the appliance on following a power outage. Unlike some similar features found on other models the MDF3-74 not only restarts but does so at your programmed settings.

The Alen MDF3-74 has two fan speeds. The higher (and louder) speed will be needed initially to reduce the relative humidity to the preferred level. The lower speed should be sufficient to maintain the set level provided that the dehumidifier is powerful enough for the size or room in which it is operating.

For ease of use the MDF3-74 is equipped with electronic controls which users report are easy to use. The interior is protected from air borne particles by a washable air filter. The filter should be cleaned at least every 30 days although we suggest every two weeks if the appliance is operating most of the time.
---
PRODUCT SPECIFICATION
Brand
Alen
Model
Alen MDF3-74 Dehumidifier
Application(s)
Domestic
Suitable for
Medium/large areas
Portable
Yes
Carrying handles
Yes, (2) sides
Wheels/castors
Yes
Weight (lbs)
53
Dimensions, inches (WxDxH)
15 x 13 x 24
Dehumidification process
Refrigerant
Water extraction
74 pints per 24 hrs
Water container capacity (pints)
20.1
Container full indicator
Yes
Auto-power cut off when full
Yes
Continuous drainage option
Yes (to nearby drain/sump)
Minimum operating temperature
41°F
Anti-frost
Yes
Air Flow Volume (CFM)
TBA
Electronic controls
Yes
Adjustable humidistat
Yes
Variable fan speed settings
Yes (2)
Noise level
52-54dB
Power input
800W/115v
---
Consumer Reactions
In their reviews consumers rate the MDF3-74 very highly. It is rated as highly effective, especially in basements, and has also been used in some commercial premises with equal success.

Consumer reviews do not indicate any problems with reliability.

The principal complaint has been about noise.
This appliance has a measured noise output no higher than other comparable units.
---
Our Recommendation
We cannot fault this model for performance. If it lives up to its promise of being reliable it will justify its higher purchase price. With this reservation we can recommend the Alen MDF3-74 Dehumidifier to our visitors.
---