Alen MDF3-50 Dehumidifier Review

The Alen MDF3-50 Dehumidifier is a medium capacity model suitable for use in any room of the home, including a smaller basement. This unit is Energy Star® qualified and will provide effective and efficient service controlling humidity in the house or in a basement.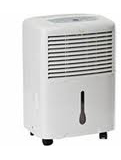 Alen are less well known than some other, larger companies but in userr reviews of their three model range all have been assessed very positively. In almost all reviews of the Alen MDF3-50 Dehumidifier ratings have been high for effectiveness, reliability and quiet operation and we expect to see this brand gaining in popularity in the years to come.


The Alen MDF3-50 Dehumidifier includes all the features you would expect to find in a home or basement dehumidifier. These include a moisture removal capacity of 50 pints per day, an adjustable humidistat to program the level of relative humidity you wish to maintain, the capability for continuous drainage to avoid continual bucket emptying, easy to use electronic controls, auto restart to switch the appliance on after a power outage, two fan speeds, auto-defrost, casters for ease of movement and the convenience of a washable air filter.

Alen Dehumidifiers are a tad more expensive than competing brands such as Frigidaire and Danby. Superior quality would justify the price difference but it is a little too early to form a judgement since the main indicator of quality is a long and trouble free service life. Alen models have simply not been around long enough for us to tell.

We are confident however that this is an effective appliance that will control humidity in a suitably sized room or basement and well worthy of a second look when you are making your selection.
---
Features

The Alen MDF3-50 Dehumidifier incorporates an adjustable humidistat. A humidistat is similar in function to a thermostat but monitors relative humidity rather than temperature and controls the operation of the appliance according to the preferred level of humidity you have pre-set. The range within which the humidity may be set ranges from 35% to 80%.


The typical level set by most dehumidifier users is usually no higher than 50% as this is sufficient to protect your possessions and is comfortable for you. A level of 60% will be enough to prevent moisture damage but at 50% the level is low enough to prevent mold growth and deter dust mites, two of the major causes of allergic reactions and other disorders. It is not usually advisable to lower relative humidity below 30% in living areas of the home as the air is then uncomfortably dry for most people.

When the programmed level of relative humidity is achieved the humidistat will turn off the compressor which stops the moisture removal process. You may notice the fan running at times when the compressor is not. This is to allow air to enter the appliance to be tested for relative humidity by the humidistat.

The humidistat has a number of benefits. First, it is not necessary to monitor relative humidity with a separate hygrometer and manually control the unit. It will cycle on and off automatically to maintain your pre-set level of relative humidity and you can forget about it. It is advisable, however, to calibrate your unit using a separate hygrometer as the humidistats on most portables are typically accurate only within a range of +/- 5%

The second benefit is that by operating for only the minimum number of hours required to keep your family comfortable and your possessions safe the humidistat saves on energy costs.

Third, the humidistat prevents excessive drying of the air which can be damaging to some materials, such as wood and leather, which require a given moisture content to remain in good order. In the case of wood and leather down to around 40% is safe.

The Alen MDF3-50 Dehumidifier is also equipped for continuous drainage. It contains a water collection container, like most dehumidifiers for the home. A regular complaint about all dehumidifiers is that the container is too small and needs emptying too frequently. Given the need to keep these appliances as small as possible overall the containers will always be too small, although the MDF3-50 has a container with a capacity of just over 20 pints, quite large compared with some models, it will need emptying at least once per day.

The solution to this problem is to discharge the collected water, the condensate, continuously. There is a port to which a small pipe may be attached to take the condensate to a nearby drain or other outlet for this purpose.

The water flows away under the force of gravity so the drain needs to be lower than the discharge port and for full effectiveness it is helpful to mount the appliance a foot or two above floor level. If the only suitable outlet is at a higher level a separate condensate pump will be required. These devices will force the water vertically over a distance of ten to fifteen feet.

The Alen MDF3-50 Dehumidifier is portable and has fitted caster wheels and two side handles to aid movement around the home. Weighing 53lb the MDF3-50 is a little heavy for a model in its class and while this may be a consequence of a good quality build prospective buyers should be aware that 50 pint units from some other manufacturers are available weighing around the 40lb mark.

Another feature of the Alen MDF3-50 Dehumidifier is auto-defrost. Auto-defrost turns the compressor off when ice forms on the evaporator coil. This typically happens at any temperature from 65°F and below. The fan will continue to run and the ambient air drawn into the appliance will melt the ice.

Obviously the cooler the air the more likely it is that ice will form and the longer it will take to melt. In cooler temperatures, below 60°F, the unit will become progressively less effective as it will spend more time defrosting than removing moisture. For this reason no portable is suitable for operation in areas where the temperature remains below 60°F for long periods. The purpose of auto-defrost is to protect the appliance from damage and ensures it can operate safely at temperatures as low as 41°F.

The Alen MDF3-50 has two fan speeds which allows you a choice between a faster moisture removal (high) or quieter running (low) setting.

The appliance is operated using easy to use electronic controls and has a washable air filter which should be cleaned every couple of weeks.
---
PRODUCT SPECIFICATION
Brand
Alen
Model
Alen MDF3-50 Dehumidifier
Application(s)
Domestic
Suitable for
Medium sized areas
Portable
Yes
Carrying handles
Yes, (2) sides
Wheels/castors
Yes
Weight (lbs)
53
Dimensions, inches (WxDxH)
15 x 13 x 24
Dehumidification process
Refrigerant
Water extraction
50 pints per 24 hrs
Water container capacity (pints)
20.1
Container full indicator
Yes
Auto-power cut off when full
Yes
Continuous drainage option
Yes (to nearby drain/sump)
Minimum operating temperature
41°F
Anti-frost
Yes
Air Flow Volume (CFM)
TBA
Electronic controls
Yes
Adjustable humidistat
Yes
Variable fan speed settings
Yes (2)
Noise level
52-54dB
Power input
620W/115v
---
Consumer Reactions

Consumer reviews show that this is a well regarded appliance. It is described as "effective, quiet, light-weight, easy to use, energy efficient, compact, and providing plenty of options to select the best mode of operation."
The only negative comment described it as "ineffective" and referred to its inability to control humidity in a basement. There are two possible explanations. Either the machine was defective or, and in our opinion more likely, the 50 pint capacity of this model was insuficient for the size of the basement.
---
Our Recommendation
In our view this is an entirely effective, well built appliance that will operate efficiently in you home or basement and we have no hesitation in recommending it for its technical efficiency. We reserve judgement about whether the Alen MDF3-50 Dehumidifier will be more reliable and longer lasting than other similar units and so cannot, at this stage, say with certainty that it justifies its higher price, although neither do we have any reason to doubt it.
---